On its annual investor day on Tuesday, February 25, 2020, JPMorgan Chase announced a new climate policy, indicating that it would put a halt to funding Arctic Refuge drilling.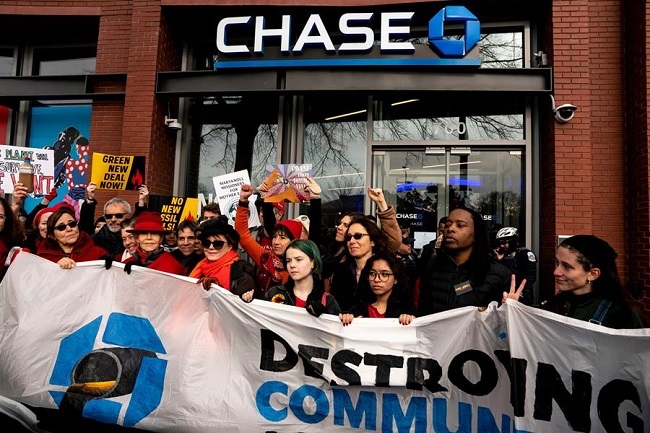 The bank also said it would complete its 2017 commitments to facilitate $200 billion in clean energy financing and source renewable energy for all of its needs by the end of this year.
It also plans to phase out all existing and future loans to companies that get the majority of their revenue from coal mining by 2024.
The plan was met with mixed reviews from environmental campaigners.
An analysis from the Sierra Club and the Rainforest Action Network knocked it for only covering companies that get a majority of their revenue from coal mining and for not restricting oil and gas financing outside the Arctic.
350.org campaigners, however, say that the submission by JPMorgan Chase, a major Keystone XL funder, "falls woefully short" in relation to the impending climate change crisis.
"Three of the top ten coal miners in the world, by annual production, could still be financed under this policy," the Sierra Club and the Rainforest Action Network analysis said.
Sierra Club campaign representative Ben Cushing said in a statement that the announcement on Arctic Refuge drilling puts the spotlight on other banks.
"The fact that even the world's worst fossil fuel banker wants nothing to do with Arctic Refuge drilling shows just how toxic an investment it would be," Cushing said.
"Now that Chase and Goldman Sachs have drawn a line in the sand, all eyes are on Wells Fargo, Citi, Morgan Stanley, and Bank of America. Who will be the last to recognise that financing drilling in the Arctic is an expensive risk that's not worth taking?"
Tamara Toles O'Laughlin, 350.org North America Director, said: "Today's announcement by a major Keystone XL funder, JPMorgan Chase, falls woefully short in responding to the climate crisis. Times up for empty or gradual commitments. This announcement would have never come without powerful pressure from groups like Rainforest Action Network, Sierra Club, Giniw Collective, 350 Seattle, and the 350 local group network.
"Fossil fuel billionaires and their enablers are robbing us of a safe, liveable planet, clean air, drinkable water, and health accessible to all. Financial backers and insurers cannot continue to prop them up while they greenwash their bottom line with displays of consciousness. The reality of the crisis demands phase out of all fossil fuels, holding polluters accountable, and transitioning to 100% renewable energy for all.
"Chase's announcement on the heels of Goldman Sachs' might soothe some, but until they purge all fossil fuels they will have failed to answer the demands of the millions to meet the urgency of the climate crisis. We will not stop until the beneficiaries of the crisis make ways for tangible redistribution of resources from the industries causing climate chaos to communities on the frontlines of the impacts."
350.org's Head of Finance Campaigns, Brett Fleishman, added: "Let's be clear, JPMorgan Chase is the biggest banker of fossil fuels by far. As such, Chase has the unique responsibility among private-sector banks to sharply reduce its fossil finance, and today's announcement wasn't that. We should read this as a signal that Jamie Dimon and the Chase executives are feeling the movement pressure and now is the time to double down.
"JPMorgan Chase's new policy is nowhere close to global best practice because while it restricts direct financing for new coal plants, it fails to restrict financing for the companies behind them. Moreover, by focusing only on coal, gas and Arctic oil, the bank can still continue pouring billions of dollars each year into other parts of the fossil fuel industry, including fracking, pipelines, tar sands and liquified gas terminals.
"Moreover, the new restriction on financing for companies whose businesses are more than 50% coal mining, and expanding coal-power prohibition worldwide, amounts to less than 0.6% of its overall $196 billion lending to the sector in the last three years. This loophole allows the bank to continue financing some of the biggest coal mining conglomerates that get less than half of their revenue from coal.
"Recently, BlackRock took the first step by announcing the divestment of funds of companies that it actively manages, with more than a quarter of revenue from thermal coal production. Despite JPMorgan Chase's new measures on coal, their asset management division still has zero divestment measures on coal or other fossil fuels."
Landry Ninteretse, 350.org's African Director, said: "While there is a lot more work to be done, this is a first step from JPMorgan Chase. African banks like South Africa's Standard Bank that align themselves with projects like the East African Crude Oil Pipeline (EACOP) need to follow and exceed the move made by JPMorgan Chase. and publicly commit to not funding the EACOP and fossil fuel projects. At 1443km, the EACOP would run like a fuse for a massive climate wrecking bomb across Uganda and Tanzania."
Eri Watanbe, 350.org's Japan Campaigner, said: "Although there are many more improvements to be made by JP Morgan Chase in their new climate policy, consecutive moves by US banks have further isolated Japanese counterparts, Mizuho, Mitsubishi UFJ(MUFG) and Sumitomo Mitsui Banking Corporation due to their weak coal policies and virtually no policies on other fossil fuel financing.
"They are the world's first, second and third biggest lenders of coal developers and 7th(MUFG) and 10th(Mizuho) largest supporters of fossil fuel industries. Noting the growing greenhouse gas emissions in Asia, and the significant role that coal plays, Japanese banks must reinforce their efforts to align their business practices with the Paris Agreement and take concrete action by improving their climate policies."
The announcement comes at the heels of similar initiatives by Goldman Sachs and BlackRock, and in response to what looks like an unrelenting pressure from activists criticising JPMorgan chase for being the world's biggest banker of fossil fuels.
Less than a week ago, a report by two of the bank's economists warning that "climate change could produce catastrophic outcomes" was leaked to the press.
The announcement also comes as communities, groups, and youth everywhere are gearing up for a mass mobilisation in April around Earth Day, including on April 23 for a Stop the Money Pipeline day of action in the US.