Stakeholders at the Financial Reporting Council (FRC) of Nigeria first webinar series have called for a collaborative efforts to address climate change and other environmental challenges in the country.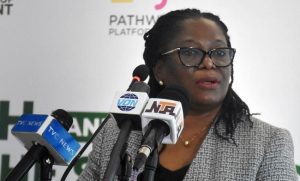 The participants made the call at a stakeholder's engagement meeting on mainstreaming Nigeria's collaborative action on Climate Related Risks and Disclosures on Tuesday May 31, N20 in Lagos.
They noted that Nigeria was dealing with wide range of environmental challenges.
They said that some of the challenges the country was facing were escalated by climate change and had negatively affected specific sectors such as agriculture, water resources and critical infrastructure.
Speaking at the webinar, the Minister of Industry, Trade and Investment,  Mr Adeniyi Adebayo, said responding to climate change required a comprehensive and integrated strategies that would simultaneously address social, economic and environmental consequences to ensure minimal impact.
"The Financial Stability Board predictions indicates that climate change will put a risk around two per cent of the global financial assets by the year 2100 and this could rise up to 10 per cent under a worst case scenario.
"Hence, companies should begin to incorporate strategies that will consider the environmental and social impact of climate change in the overall growth and expansion module,'' Adebayo said.
The Chief Executive Officer of NGX Regulation Ltd., Ms Tinuade Awe, urged all critical stakeholders to prioritise implementing initiatives that positively benefit the environment and combat climate change.
"A critical step in this process for the private sector is for companies to incorporate environmental, social and governance matters into their business operations and activities as well as their reporting processes to have a better picture of their social and environmental impact.
"In Nigeria, the Federal Government has localised the global call by committing to achieving a net-zero economy by 2060 and signing the Climate Change Act 2021 into law.
" This policy is consistent with Nigeria's vision to be a low-carbon, climate-resilient, high growth circular economy that reduces its current level of emissions by 50 per cent by 2050, as captured in the 2050 long-term vision for the Nigerian economy which was issued by the Department of Climate Change, Federal Ministry of Environment in 2021," she said.
Awe urged all critical stakeholders to prioritise implementing initiatives that positively benefit the environment and combat climate change given Nigeria's ambitious climate goals to reduce greenhouse gas emissions by 47 per cent by 2030.
She added that the NGX Regulation had played several roles to promote sustainability reporting.
"At NGX Regulation, we are committed to fostering the adoption of sustainable business practices and disclosure amongst companies listed on Nigerian Exchange Limited.
"This is evidenced by our leading role in the development and issuance of the NGX Sustainability Disclosure Guidelines in 2019 which has provided support for companies seeking guidance on sustainability reporting practices,'' she added.
Earlier, the Executive Secretary of FRCN, Mr Shuaibu Ahmed, said that Nigeria was not immune to climate change risks as seen by the annual flooding in various parts of the country.
According to him, Nigeria must be at speed with the global move towards the adoption of sustainability guidelines.
"The programme is the first in the series, we at FRC plan to ensure that Nigeria effectively contribute to global single set of high quality sustainability reporting standards.
"Presently, sustainability reporting initiatives exists in silos and even non-existent in most sectors, therefore, a unified sustainable approach is inevitable to ensure that the current needs are met without complaint for the future generations to meet their needs,'' he said.
FRC was established as a Federal Government Agency under the supervision of the Federal Ministry of Industry Trade and Investment by the FRC Act 2011.
The FRC is responsible among other things to develop, publish accounting and financial reporting standards.
The event was necessitated by development arising from the establishment of the International Sustainability Standards Boards (ISSB),  the issuance of two exposure drafts by the IFAs foundation, late last year.
The ISSB recently issued two exposure drafts, one on general sustainability and the other on specific planet related disclosure requirements.
By Lydia Ngwakwe