Olumide Idowu of Nigeria has emerged as one of the eight young leaders from around the world recognised for their outstanding work by the Tod'Aérs Global Network (TGN) – and decorated with the "2022 Global Young Leader of the Year" Award. A half-Nigerian, Sharona Shnayder, was also decorated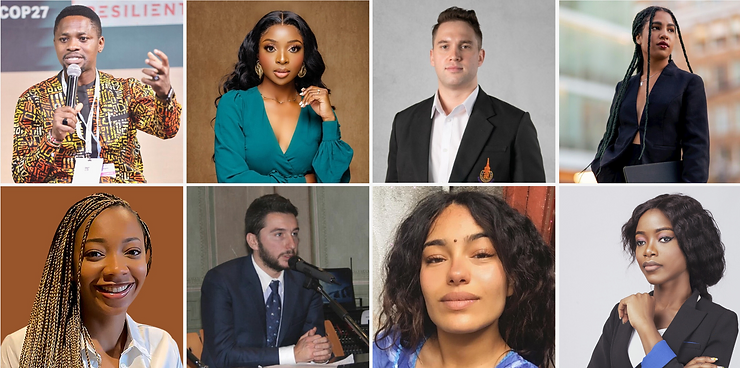 The awardees are said to "have contributed significantly to global sustainable development, technological innovation, and socio-economic progress during the past 12 months".
The nominees were selected in four categories: Public Leadership and Ethical Governance, Business Innovation and Entrepreneurship, Youth Empowerment and Civic Engagement, and Quality Education and Capacity Building.
Idowu was nominated under the "Public Leadership and Ethical Governance" category alongside Italian, Giacomo Mangoni, a former Mayor of Agliana and former Vice President of the Province of Pistoia.
According to TGN, Idowu is a Consultant at the African Development Bank (AfDB) and Executive Coordinator for the African Youth Initiative on Climate Change (AYICC). He is the Youth Focal Point (Nigeria) for the UNDP Small Grant Programme and contributed as an author to the Global Environment Outlook (GEO) of the UN Environment Programme (UNEP).
He was recognised as African Youth Champion for the United Nations International Strategy for Disaster Reduction (UNISDR). His core focus includes Youth Empowerment, Environment, Climate Change, Communication, Monitoring & Evaluation, and Sustainable Development.
"Youth Empowerment and Civic Engagement" category features Sharona Shnayder (Israel/Nigeria), a 22-year-old Nigerian-Israeli Environmental Advocate mobilising for climate justice in the Middle East, and Sarra Riahi (France/Tunisia), a French-Tunisian Journalist and the Head of Advocacy at We Belong, a youth-led organisation that offers tailored training, project management, communication, as well as policy and strategy services on issues related to Diversity, Equity, Inclusion & Belonging.
Shnayder is a One Young World Ambassador and Founder of Tuesdays for Trash – a global grassroots movement inspiring individuals around the world to dedicate Tuesdays – or every day – to trash picking, conversing about the waste management issue, demanding better practices from big businesses, and becoming responsible citizens working towards healthier homes for all.
"Business Innovation and Entrepreneurship" category nominees include Arno Immelman of Thailand, who is a university lecturer and Co-founder of Swift Escape Global, a recruitment firm that specialises in placing people in jobs throughout Thailand and Southeast; and Togolese, Karen Aquereburu, who is a Group Project Manager at Gozem – a startup that has focused over the last four years on building out operations in the transportation, e-commerce, delivery, and fintech sectors.
"Quality Education and Capacity Building" category has Medical Doctor Khazana Sihwaya (Zambia/United States), who is a One Young World Ambassador, and Founder of the 2030 Child Nutrition Project, and 23-year-old Marie-Lucienne N'Guessan (Cote d'Ivoire), who is a UNICEF Youth Champion, YALI Alumni, and Founder of the Center MARée de LUmière, a non-profit organisation that aims to train women, children, and people from marginalised backgrounds in the field of technology.
Sihwaya's 2030 Nutrition Project promotes good health and nutritional practices to eradicate malnutrition in expecting mothers, lactating women, and infants during the critical 1,000 days of life.