A 10-month media capacity building programme in Nigeria has produced three journalists committed to climate change reporting, as well as a series of environmentally-focused local content.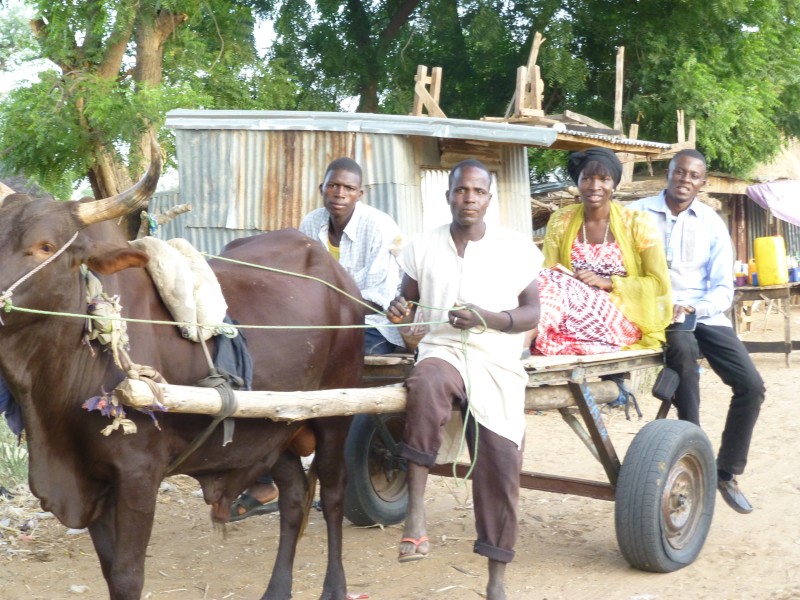 Led by Internews' Earth Journalism Network (EJN), the Climate Journalism Mentors Programme commenced in June 2015 with the aim of increasing the capacity of journalists in the country to report on the challenges of covering climate change. The programme not only provided a comprehensive overview into the science behind climate change-related issues, it also linked the mentees to scientists and numerous experts in the field.
The mentored journalists, who are all based in Lagos, include: Innocent Onoh (from the Federal Radio Corporation of Nigeria), Augustina Ogbonna-Armstrong (a freelance multi-media journalist) and Kayode Aboyeji (from the Daily Newswatch Newspaper).
To date they have jointly produced about 18 print, online and radio stories. The stories were published on EnviroNews Nigeria and Teenaijanews Blpgspot, while radio reports broadcasted on Radio One Lagos and Radio Nigeria Network were uploaded to AudioBloom.
The reports focused on the human dimensions of climate change, telling the stories of ordinary, vulnerable people that are hugely affected by shifting weather patterns. In some cases, the stories also highlighted the adaptation strategies of these communities. For instance, Aboyeji's pieces on heavy rainfall flooding farmlands outside of Lagosand ocean surge inundating the village of Okun-Alfa captured the scale of the problem, as well as steps taken to address it.
Similarly, Onoh's piece on a disappearing crop in Arochukwu highlights how climate change is negatively impacting food security and explores measures adopted by local communities to adapt to the situation.
Some of these reports have prompted serious discussion in wider circles in Nigeria's media landscape. Over the course of producing a series of stories on a controversial refinery project in Lagos that was said to be threatening coastal communities, Ogbonna-Armstrong sparked a debate with the developers that played out in radio shows and newspaper articles.
Through the EJN mentorship programme, these journalists have also seen success outside of Nigeria. Two of the reporters – Kayode Aboyeji and Augustina Ogbonna-Armstrong – traveled to Paris for COP 21 where they actively covered the climate negotiations. From Paris, Ogbonna-Armstrong proceeded to New York, where she was awarded the United Nations Foundation Gold Prize for print and broadcast media by UN Secretary General Ban Ki-Moon. The piece that won her the award was also selected by the "Voices2Paris" storytelling contest, earning her a trip to Paris with the United Nations Development Fund.
Augustina Ogbonna-Armstrong and Innocent Onoh also jointly won an EJN story grant award that enabled them to travel to the northern part of Nigeria to investigate issues related to widespread desertification and land degradation.
The three journalists expressed satisfaction with the programme, saying that, despite some challenges, they gained a lot from the experience. Aboyeji says he learned a lot from being able to experience first-hand the effects that climate change is having on people. However, there were some challenges with getting experts or officials to speak or provide input on important issues. In some cases, this was due to scheduling conflicts, but many simply did not want to comment on record.
"By and large, the programme has helped in boosting my skill through experiences shared by colleagues and reading other peoples' write-ups," Aboyeji said. "I look forward to such an opportunity again in the nearest future."
"I never knew some things I took for granted matter a lot. This mentorship (programme) is really worth it," added Onoh. "For me, it was a big opportunity for learning, networking and getting exposed."
Ogbonna-Armstrong agrees. "For the first time in my journalism career of about 10 years, I was able to write a story proposal and win a grant," she said. "All of this was achievable under the mentorship of Mr. Simire, who will not relent in getting the best out of me because he believes in my ability."
Michael Simire, editor of EnviroNews and member of the EJN International Council of Partners, mentored the trio.