For the first time in his 30 years of residence on Sagbo Kodji Island, Friday Onos has electricity in his home. To him, it is a dream come true – and one that will likely make him dream again.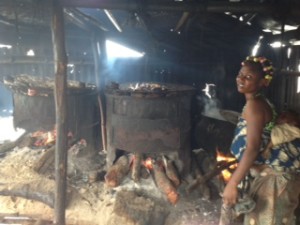 "I had big dreams of setting up businesses but the lack of power supply to this Island kept extinguishing my dreams of creating alternative job opportunities for the youths here," he says.
Onos continues: "Most residents are into fishing and because there is no power, they smoke the fish and ensure they are sold off immediately – and by implication at a low cost. But this solar power project is a big chance to ensure that fishes are preserved. I am now thinking of setting up a cold room business, so people can preserve their fresh fish.
"At nights children gather around my house and dance for joy as they play till they get tired. They have never seen 24-hour power supply till this solar power was installed."
Onos is one of a few lucky beneficiaries under a solar power project provision on the beleaguered island. In fact, only five homes out of the nearly 300 dwelling units in the neighbourhood have benefited.
Sagbo Kodji Island is one of the 34 riverine communities in Amuwo-Odofin Local Government Area of Lagos in South-West Nigeria. The century-old Island is bounded by the Apapa seaport to the South and has existed without electricity.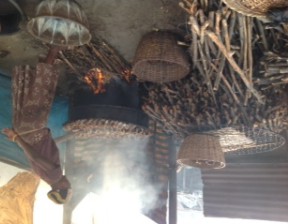 Residents of the Island who are predominantly Egun speaking people are said to have ancestral ties with the ancient town of Badagry. The main source of livelihood is fishing. The fish is processed locally with heat from firewood stoves and sold in the metropolitan market as smoked fish.
Many residents of Lagos are unaware of this group of people who ferry daily in crowded boats to sell their fish in markets and street corners in the Lagos city centre.
The cloud around Sagbo Kodji Island is usually dense due to the smoke emanating from many homes, as women are either smoking fishes with firewood or sawdust, or cooking for the family. Many children on the island have lived all their lives believing that the only source of light is from the popular small petrol powered generator locally called "I better pass my neighbour" or when cargo ships arrive the shores of the Apapa wharf at night with their flood lights brightly and temporarily light up the community as the ships sail by.
Several months ago, some homes on the island were provided power under a pilot initiative courtesy of the firm Arnergy, whose head, Femi Adeyemo, says he was shocked to learn that a community exists for about 100 years without electricity.
He says: "I decided to visit the island and, after series of meetings with community leaders, a pilot project was launched. The project enables users to pay N100, N200, N300 or N500 daily for a 24-hour constant power supply.
"Before we install the solar panels in any home, we take inventory of gadgets and appliances that would be used by residents. This will help us in ensuring the right panel than can supply power to the home is installed.
"Also you know a times people can be tricky. After listing the appliances that will be used and we have finished installation, they will later include other appliances not listed. We have a technology that can detect overloading and this will be remotely switched off from our office.
"When we set out to light up Sagbo Kodji Island, we were hopeful that we would get support. But, up till now, most promises are yet to be fulfilled. These solar panels cost a lot of money to import. And there are many homes yet to be powered on this island. With support, the socio-economic life of residents of this abandoned island will be boosted.
"Children will be able to study at any time of the day without fear of power outage. Women will no longer inhale smoke from firewood that has continued to worsen their health conditions. Businesses will come alive on this island. You can see that they are bounded by the busiest seaport in Nigeria but so neglected and far from development. This solar power project will change the air they breathe on this island: clean air and no longer polluted air."
In Nigeria, smoke from indoor air pollution contributes to 95,000 deaths every year.
A Federal Government clean energy project worth N9.2 billion meant to supply clean energy cook stoves to women in rural communities has run into troubled waters.
Director of a not-for-profit group, Connected Development (CODE), Hamzat Lawal, says the supply of clean energy cook stoves to women in communities like Sagbo Kodji who don't have any clean alternative source of energy for household cooking would have benefitted from federal government clean stove project.
"When we advocate for transparency in government projects like the clean energy cook stove project, we know there are real women in poor communities like Sagbo Kodji who need this source of energy. When there is no power supply for communities, they turn to the forest and cut down trees as firewood for cooking. We lose our forest, the Sahara desert encroaches and our women continue to inhale smoke. But for how long will these women continue to inhale smoke from firewood as they cook for their family?" he demands.
Many residents in the community are hopeful that their homes will be installed with solar power in the next phase of the project but for how long they will wait will depend on when Arnergy gets financial support to continue the light up Sagbo Kodji project.
By Augustina Armstrong-Ogbonna