Cocoyam, a root crop, for many years served as a major source of revenue for rural women in the ancient town of Arochukwu in Abia State. But, of recent, the crop has disappeared, thus triggering off food insecurity concerns and threat to livelihood among the predominantly farming populace.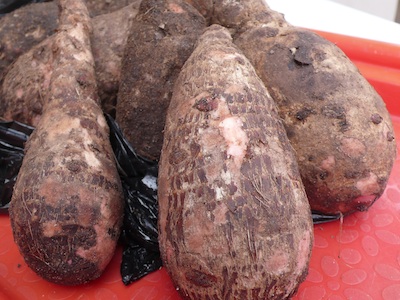 Though a remote town, with access roads in a poor state, Arochukwu parades such attributes as home to the popular deity "Long Juju," the originator of the "Mazi title" used to qualify traditionally complete men, and a place where the African culture still waxes strong, despite the influence of modern civilisation.
But the people are facing hard times following the non-availability of different species of cocoyam, which used to be a major source of revenue for the women in the community.
Cocoyam cultivation is predominantly the business of women and, depending on the size of the farm, bigwig farmers among them could harvest numerous bags of the crop annually, making many of them breadwinners in their families.
But what started some 10 years ago, as the gradual decline in yield has led to the total disappearance of the crop and, as it is, locals cannot even produce enough for consumption, let alone for sale.
According to a woman leader, Mrs. Esther Obong from Ugwuakuma Village, which is the biggest farming village in Arochukwu Kingdom, the disappearance of cocoa has helped to increase famine in the land, while women suffer a lot to raise their children.
"Cocoyam has gone to extinction, and our people are suffering a lot. The impact is more on widows because they have to grapple with the task of raising their children with an empty pocket," she cries out.
Following the disappearance of this important crop, many of the women have now taken to odd jobs, such as breaking of stone and cultivation of plantain, which require considerable amount of energy that a lot of them seem not to have.
A concerned husband, Mr. Philip Ikechi. explains, "Stone breaking has been an age long practice here with even children mastering the act of breaking large stones. But, in recent times, the number of people in the trade has increased tremendously because the farms are no longer productive. This time some years back, some of these women would be smiling to the bank with the sale of many bags of cocoyam."
Cocoyam ranks third in importance after cassava and yam among the root crops cultivated and consumed in Nigeria, which used to be the world's leading producer of the crop with about 3.7 million metric tons annually.
Nutritionally, it is said to be superior to cassava and yam, as it is a rich source of dietary fibre and starch that can speedily energise the body.
Cocoyam belongs to the family of Araceae and, in Arochukwu comprising towns such as Arochukwu Kingdom, Isu, Ututu, Ihechiowa, and Abam, three major varieties are mostly cultivated.
There are the Xanthosoma specie which the people call Ede Bekee or English Cocoayam, Panya believed to have been introduced to Arochukwu by ancient travelers from a town in Equatorial Guinea, and finally the Colocasia esculentum which they call Nkasi Mmamma, mostly used for cooking soup and is said to have high economic value.
In the good old days, cultivating cocoyam, especially Panya and Mmamma, used to be an interesting experience, as it required little effort, compared to yam, cassava and other root crops.
In fact, in some cases, they just grew without anyone planting them, as hundreds of them would sprout at the back yard, sites for dust bin and other open places, weeks after the first rain of the year.
During harvest, a single stand of cocoyam could produce up to 10 sizeable tubers and other smaller ones, enough to fill up a small basin.
But, these days, even when the farm is well taken care of, the crop looks stunted with tiny stands, and many of them barely yielding anything.
The disaster in cocoyam production is being felt nationally, as city dwellers who need it to prepare a special delicacy like the "white Soup" complain that the tiny tubers of the crop displayed for sale in the market are very expensive.
But what worries respondents the most is the unfavorable impact it has on the masses who depend on it for food and income.
"In Arochukwu, after the death of your husband, other men are scared of marrying you. How will the widows cope? Cocoyam is very valuable. Because it matures early, it sustains the people before yam starts coming out. With this development, the people should be ready for hunger," laments an indigene.
The disappearance of cocoyam in Arochukwu is like history repeating itself. In 1983, species of a particularly high yielding cassava variety suddenly withered and died.
Convinced that it was a nemesis from the gods, the people held a strange ceremony to appease the gods of cassava, during which new wrappers were tied around cassava stands, while crowds of people danced around. chanting, "igburu bu eze", which is translated to mean, "cassava is king".
Whether that ceremony was the reason cassava started doing well again in the land is a story for another day.
Many believe that if Christianity had not been established in the land as before, another "strange" ceremony to also appease the gods of cocoyam may have been held.
But what could be responsible for the disappearance of cocoyam in Arochukwu?
Most experts blame it on land degradation due to factors such as over cultivation of a land, prevailing weather and the ravaging climate change, which has also caused drastic reduction in yield and loss of biodiversity in many places across the globe. Application of fertilizers could also cause a land to degrade as in the case of parts of northern Nigeria.
A food expert and National President Nigerian Institute of Food Science Technology, Dr. Chijioke Osuji, explains, "Cocoyam is among foods billed for extinction. Reason for this is because of the failure of research institutions to commercialise the crop. In Nigeria, cocoyam is only consumed either as cooked food or used as a seasoning in preparing soup (white soup). Research. should be done to find out products that can be manufactured with cocoyam. That way the crop would have more market value and institutions would produce new breeds that can adapt with prevailing climate and soil."
Similarly, an environmentalist and climate change expert, Professor Olukayode Oladipo, links the development to the neglect of cocoyam among the people as well as environmental issues.
His words: "Cocoyam is a crop that most people take for granted. But generally, if you use a particular soil for a long period of time, after some time, the soil almost gets bad and the crop will stop doing well. So, If we want to make progress, it will require a kind of research. So if we are not getting cocoyam again, its either due to sociocultural factor or soil factor or other environmental factors of which climate change is a part of. There is high probability that possible changes in climatic condition have accelerated other factors that are responsible for non-availability or limited availability of cocoyam."
Also, the National Root Crops Research Institute in Umudike, Abia State, which has undertaken a programme on cocoyam attribute the shortfall in cocoyam production to people's ignorance of the nutritional value of the crop as they see it as a poor man's food.
Another is that the recycling of the planting material results in accumulation of pathogens in them which declines yield, as Nigeria witnessed 11 percent drop in National Production between 2000 and 2004.
On the way forward, a holistic system of renewing degraded land through tree planting and other projects has been advocated.
A forester and the Desk officer for the Great Green Wall programme in Kano State, Alhaji Garba Sale, says basically land recovery involves two major processes, short time and long system, with the former involving planting of nitrogen fixing plants, and the later tree planting.
"The process of land recovery takes time, but it depends on the method applied. If you plant nitrogen fixing grasses and shrubs, you can recover the land quickly. And if you plant trees, you can recover the land gradually but it will protect it for a longer time," Sale says.
According to observers, the authorities responsible should take swift action towards recovering degraded lands across the country to boost agricultural production and curb the threat of food insecurity. Economic empowerment initiatives for women in Arochukwu is also welcomed, apparently to enable them adapt to the loss of their means of livelihood.
By Innocent Onoh