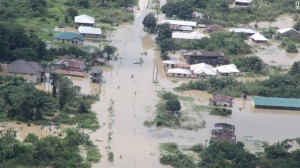 Governments at all levels have been asked to henceforth reframe climate change issues and seek new kinds of solutions to help affected communities and people deal with negative effects of global warming that exceed their capacities, within the context of the Warsaw International Mechanism on Loss and Damage.
This forms one of the resolutions at the recently held Sixth Lagos Climate Change Summit that had "Exploring business opportunities in climate change mitigation and adaptation: Lagos State in focus" as its theme.
Participants likewise resolved that the state should not just have a policy on climate change, but legislate on it to ensure sustainability of initiatives for climate-resilient development. Indeed, the government was urged to lead a strategic stakeholder engagement programme, with awareness creation and capacity building on green models and strategies; and, more importantly, on the economics and business of going green.
Government was advised to set up a Lagos State Green Development Centre (a PPP Initiative) – which will not only run under the hospice of the state's Ministry of Environment, but operate as an engagement platform for proactive industry drive towards sustainability.
Apart from expressing support through micro-financing gender-sensitive green SMEs and putting up mechanism that will simplify climate change issues for easier understanding and comprehension by non-experts, the Lagos government was urged to consider imposing carbon emission taxes on corporations in the energy sector, including generating set manufacturers and merchants to promote investment in climate-friendly business initiatives.
In partnership with the Federal Government and the African Development Bank (AfDB), the state was asked to improve its climate finance readiness and build up its internal financial infrastructure in order to act as a full participant in emerging international climate financing arrangements, including the Green Climate Fund and Clim-Dev Africa Special Fund, among others.
It was further suggested that government should introduce stringent development control measures and requirements (energy assessment, flood risk assessment, etc) for new buildings approvals to promote energy efficient and eco-friendly buildings and development of climate resilient cities.
While incorporating strong urban containment policy to discourage city sprawl and promote vertical growth such as sky scrapers and the greening on urban buildings, it was further recommended that government should introduce Controlled Parking Zones to deter the use of private vehicles, and consider the introduction of tax incentives for owners of non-polluting vehicles to reduce greenhouse gas (GHG) emissions in the transport sector.
State officials were likewise challenged on the need to upgrade current efforts in the transportation sector to, on one hand, develop an effective climate smart traffic system management that will promote non-motorised, non-fossil transportation (including electric motors, gas driven cars, walkways/bicycle tracks); and, on the other, sustain the redesigning and reconstruction of roads for climate resilience.
They were told to forge a partnership with investors in using renewable sources for energy generation, and adopt strong Renewable Energy Standard (RES) and policies, as well as expand existing ones. These may include extending tax advantages and establishing other financial benefits towards the development of renewable energy projects.
Additionally, the forum agreed that support should be given to interested investors to conduct Technology Needs Assessment (TNA) and Market Analysis/Barrier to Trade in agriculture and other sectors to enable these sectors appreciate and explore business opportunities in climate change mitigation and adaptation in the state, resolved the participants.
They recommended that climate-smart agricultural strategies and practices should be mainstreamed into relevant national and state policies including further development of agricultural value chains and conducive environment for private investment to enhance the contribution of the sector to the nation's gross domestic product (GDP).
Furthermore, Lagos State should share experiences of resilient cities programmes such as those of Kenya and Rwanda and kick-start a process, including (a) public consultation on short, medium and long term targets, (b) review of all existing Urban Plans and existing Physical Laws with an increased focus on mitigating climate change impacts, and (c) progress on the Lagos Building Codes initiative, that will promote climate resilient and eco-friendly compact housing to green and climate-proof residences in main urban centres.
Government should also support business opportunity through feasibility studies in green entrepreneurship in the energy sector, recycling and waste management, water management, transportation sector, urban agriculture and urban food systems, ecotourism and climate change monitoring to encourage potential investors.
Besides developing and implementing strategies for public-private partnership in climate entrepreneurship to translate marketable opportunities for climate technology ventures into reality, government was asked to conduct a detailed air quality assessment for the Lagos metropolitan area and set in motion the process to review regulatory framework for enforcing air quality standards, as well as establish an integrated air quality monitoring system for the state.
Similarly, the state was asked to support the collection of relevant data and research that will compare climate impacts across sectors and to systematically assess climate risks.