GCF's direct access country partners take part in UN Women training session on women's empowerment to scale up climate action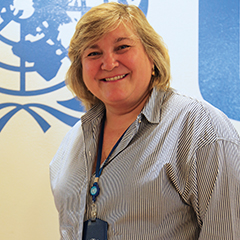 The "why" and "how" of mainstreaming women's empowerment in the context of climate change projects and programmes was the focus of a one-day training session held recently as part of the Green Climate Fund's Accelerating Direct Access week.
Organised jointly by GCF and UN Women, the workshop was delivered to participants attending the Fund's direct access country partners event, which brought National Designated Authorities (NDAs) and direct access accredited entities to GCF's Headquarters in Songdo, Republic of Korea.
Led by representatives from UN Women, the workshop provided country partners with a comprehensive introduction to developing gender-responsive initiatives. Case studies were presented on gender in the context of sustainable energy and climate-resilient agriculture. The case studies gave concrete examples of the barriers and risks that must be overcome in the project design and implementation phases.
At the start of the workshop, the Director of UN Women's Programme Division, Maria Noel Vaeza, gave an introduction to UN Women and an overview of international agreements on the promotion of gender equality and women's empowerment. In her remarks, Ms. Vaeza underscored the role of women in the work countries are embarking on with GCF.
"Women are key agents for tackling climate change. They have an important role to play, not only in addressing the effects of climate change but also in contributing to the other Sustainable Development Goals," she stated. "At UN Women, we are pleased to see that GCF has put women at the centre of its work with countries, demonstrated through this one-day workshop on women's empowerment to scale up climate action."
Ms. Vaeza shared that, despite more than two decades of climate change negotiations, gender and gender equality remain inadequately addressed in the climate change process, citing a study that found only 17 per cent of national adaption programmes of action (NAPAs) by countries incorporated a gender perspective. In the instances where gender was included, women were portrayed as victims and not as contributors to climate action, she added. Ms. Vaeza said the Paris Agreement on Climate Change represents a tremendous step forward.
"For the first time in the history of the Conference of the Parties to the UN Framework Convention on Climate Change, gender equality is in the preamble and articles of the Paris Agreement," said Ms. Vaeza. "The agreement recognizes gender equality and women as agents of change to the solution of climate change. Now it is up to us to work together to make it happen."
In the afternoon session, participants engaged in group work sessions to apply the tools and methodologies introduced earlier in the day, led by UN Women's Seemin Qayum and Clemencia Muñoz-Tamayo.
The groups worked on a gender-blind project – where gender is viewed as not having an influencing factor on a project – to propose ways in which the project could have been redesigned to take a gender-responsive approach from the beginning.
UN Women Deputy Executive Director of the Policy and Programme Bureau, Yannick Glemarec, joined the workshop by videoconference to share his views on gender and climate action and engage with participants during a question and answer session.
The workshop was opened by GCF's Director of Country Programming, Ousseynou Nakoulima, who stressed that the Fund stands ready to support countries in applying a gender-responsive approach in their climate action projects and programmes. He recalled the Fund's gender policy and action plan as crucial instruments to help and guide countries in this important endeavour.