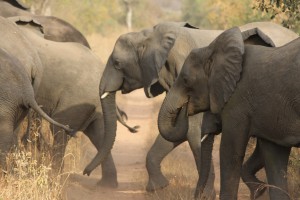 The Wildlife Conservation Society (WCS) has announced that it will partner with the Bauchi State Government to manage the conservation of Yankari Game Reserve, a key protected area in Nigeria that contains the largest remaining population of elephants in the nation and one of the largest in West Africa.
WCS signed a four-year MOU with officials in Bauchi State to manage conservation work in Yankari, considered the nation's richest protected area.
The reserve contains an estimated 350 elephants – the only viable population remaining in Nigeria. In addition, the 866-square-mile (2,244 square kilometers) reserve supports important populations of lion, buffalo, hippo, roan and hartebeest.
Originally created as a game reserve in 1956, Yankari was upgraded to a national park in 1991. It was managed by the National Parks Service until 2006 when responsibility for the management of the reserve was handed back to Bauchi State Government. Since then tourism infrastructure has been dramatically improved. Yankari is now one of the most popular tourism destinations in Nigeria.
Support from WCS began in 2009.  Since then protection of wildlife has improved although hunting and grazing of livestock within the reserve has not yet been brought under full control. Furthermore unconfirmed reports suggest that an unknown number of elephants may have been killed in recent years to supply Nigeria's illegal trade in ivory.
In addition to the funds provided by Bauchi State Government under the terms of the MOU, WCS's 96 Elephants campaign will also provide funding and support for regular anti-poaching patrols in Yankari including equipment and training.
"Yankari Game Reserve is an ecological gem of West Africa," said Dr. James Deutsch, Executive Director of WCS's Africa Programme. "We are extremely proud to be entrusted with preserving this critically important wildlife area by the Governor of Bauchi State, Malam Isa Yuguda, for the benefit of the people of Bauchi State and Nigeria."
Based at the Bronx Zoo, the WCS harnesses the power of its Global Conservation Programme in more than 60 nations and in all the world's oceans and its five wildlife parks in New York City, visited by four million people annually. WCS combines its expertise in the field, zoos, and aquarium to achieve its conservation mission, which is to save wildlife and wild places worldwide through science, conservation action, education, and inspiring people to value nature