Over 200 hectares of new renewable woodlots for sustainable fuelwood harvesting have been established within Cross River, Delta and Kaduna states under the "Sustainable Fuel Wood Management (SFM) in Nigeria", a project initiated by the Global Environment Facility (GEF).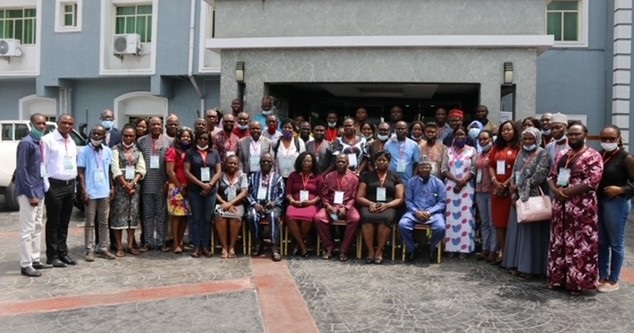 The SFM, in respect of which over 25,000 energy-efficient wood/charcoal cookstoves were produced and disseminated among communities in the three pilot states, is in its fifth and the terminal year of implementation, which is carried out by the United Nations Development Programme (UNDP) with support from the Federal Ministry of Environment, the Energy Commission of Nigeria (ECN) and several other stakeholders.
At a Multi-Stakeholders' Interactive Forum held from Tuesday, April 13 to Thursday, April 15, 2021 in Uyo, Akwa Ibom State, SFM value-chain actors showcased achievements, exchanged knowledge and experiences, and attempted to mobilise grassroot capital for the sustainability of project's outputs, even beyond its lifespan.
The event also explored the: role of Community Forest Management Committees (CFMCs) in the maintenance of the established woodlots for sustainable fuelwood supply; production of quality and standardised energy-efficient woodstoves; and establishment of sustainable cookstoves markets and groups with community-based micro-credits to incentivize woodlot owners and end-users of cookstoves.
Listing achievements, the promoters disclosed that energy-efficient charcoal production systems have been built in each state for the sustainable production of charcoal from agricultural wastes, as against the traditional burning of logs of wood in shallow earth pits.
"Over 250 young women and men were trained as business agents for the promotion of clean cookstoves and woodlot establishment in Nigeria, even as 14 micro-finance institutions have been capitalised and capacitated to provide sustainable fuelwood management financing models that enable low-income groups in the target communities to access no-interest loans for the purchase of the energy efficient cookstoves."
Relating the status of SFM Project implementation in Cross River State, officials stated that they encountered challenges such as extraction of dead wood from high forest, accessing counterpart funding, as well as fire outbreak and vandalism.
They noted that, beside utilising resources locally through technical support and in kind, they likewise intensified dialogue in affected community and the introduction of agroforestry to increase individual ownership.
According to them, the total plantation size established so far in the state amount to 82 hectares (ha) from Local Government Areas (LGAs) and communities such as Obudu (Okutia), Obanliku (Bebi), Yala (Ochongor), Ogoja (Mbok), Akpabuyo (Ekinta and Ekiriba-offiong), and Calabar Municipal (Ikot Ansa).
Delta State officials, on the part, listed challenges encountered to include:
Selling the SFM model to the stakeholders at community level was a huge task,
Most of the available lands provided by the communities for the project are not easily accessible,
Difficulty in securing hectares of land along major roads and highways, and
High cost of maintenance of woodlot at pre-establishment stage, fire and bush burning.
They stated that 50 ha of community plantations were established in 2019 at Adonte (20), Isheagu (5), Ukwu-Oba (15) and Abah-Uno (10).
On the establishment of tree nursery and woodlot plantation, officials disclosed: "This was achieved through the raising of 20,000 seedlings of Teak and Gmelina at Adonte in 2018 and an additional 25,000 seedlings at Ogwashi-uku in 2019. This gave a total of 45,000 seedlings raised.
"In 2018, 12 ha demonstration woodlots with about 12,000 trees were planted in Adonte and Abah-Uno across clusters of sites.
"In 2019, about 45,000 seedlings of Tectona grandis (Teak) and Gmelina were planted in 50 ha across different sites in five communities."
In Kaduna State, SFM officials identified challenges encountered to include: forest fire, water source during dry season, lack of comprehension of the micro finance funding process, absence of loan/funding for the enthusiastic youth and rural women; and willingness and long waiting time for the forests maturity.
According to them, recorded successes are:
Development of blueprint for the Kaduna State forests establishment, woodlot and efficient cookstove production,
Ministry of Environment, Agriculture and Kaduna State University (KASU) supporting Diploma programmes in Geography, Chemistry, Biology and Physics in Sustainable Energy and Environment,
Briquette production and awareness derive, and
Interactive session with all stakeholders in the state.
They disclosed: "The total number of seedlings supplied for the year 2020 planting and 2019 beating-up amount to 128,580. The performance of this year's 2020 woodlots planting is very impressive compared to that of 2019.
"The targeted hectares of woodlots plantation established for this year as approved by the UNDP was 80 ha only, but this year's planting was more than the approved hectares by 50% inclusive of beating up.
"In this year's planting, the seedlings supplied for the exercise were very matured enough for planting and the planting exercise were done at the peak of raining season, and the mortality rate will be less compared to last year's (2019) planting.
"The construction of Solar PV system for the electrification of borehole water supply, mobile phone charging, IT centre, Learning Centre/SFM Demo centre in Saminaka. Training on wood/charcoal Energy Efficient cook stoves for local producers at Saminaka Demo center.
"The project established grassroots gender sensitive training on the establishment of tree nurseries and woodlots for 60 rural farmers in Lere, Jaba and Giwa."
Dr. Cosmas Anyanwu, Chairman, National Technical Committee on Clean Cookstoves and Cooking Solutions, speaking on "National Standards on Wood/Charcoal Cookstoves: Gaps Analysis and Way Forward", disclosed that, to improve the fuel use efficiency and compliance to the already developed Nigerian Industrial Standards for Biomass Cookstoves under SFM, the Project commissioned the National Technical Committee to lead a study aimed at assessing the needs and analysing the gaps in Nigeria's stove sector.
Anyanwu, who is also Deputy Director, World Bank Africa Centre of Excellence for Sustainable Power and Energy Development, University of Nigeria, Nsukka, stated that they survey showed that:
62% of end-users heard about improved cookstoves for the first time through NGOs, while 13% heard about ICS for the first time through producers/sellers.
60% of the end-users surveyed have not heard about the NIS 1000 standard for biomass cookstoves, but 40% have heard.
67% of the end-users surveyed said that their ICS does not have the name of the manufacturer on it, but 36% said that their stoves have manufacturer's name on it.
Consequently, he proposed the following recommendations:
A sensitisation workshop involving all stakeholders in the Clean Cookstove sector in Nigeria should be organized to raise awareness about the NIS 1000:1 Standard.
The processes required to carry out review of the NIS 1000:1 Standard for Biomass Cookstoves should be set in motion, since the standard is due for review in 2023. The identified gaps in the standard should be addressed during the review.
The identified needs of the testing laboratory should also be fulfilled by upgrading the National Stove Eligibility Laboratory (NSEL).
There should be further brain-storming on how to subsidize the cost of stove testing in Nigeria, especially for locally made stoves.