South Korea would not object to Japan's plan to release radioactive water from the wrecked Fukushima nuclear plant into the sea as long as the action met International Atomic Energy Agency (IAEA) standards, an official said.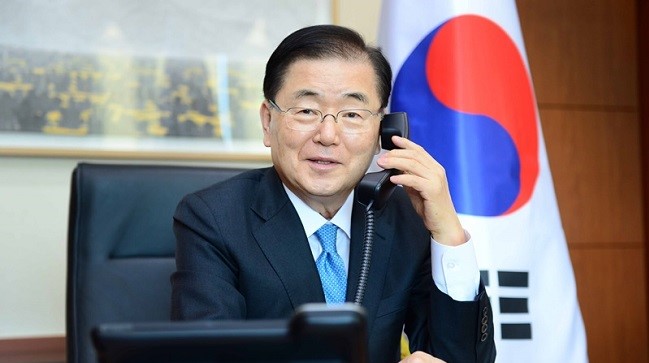 Korea's Foreign Minister Chung Eui-yong made the remarks on Monday, April 19, 2021 during a parliamentary interpellation session in response to a query by Rep. Moon Jin-seog of the Democratic Party.
"If (Japan) follows the due processes under the standards of IAEA, (Seoul) has no particular reason to object,'' the foreign minister said.
Chung also said Japan should meet three conditions providing enough scientific evidence and information and sufficiently sharing such information; having more sufficient consultation in advance.
Stressing that guaranteeing South Korea's participation in IAEA's safety verification process was in order to win Seoul's understanding on the issue.
"Rather than opposing the plan (outright), Seoul is relentlessly and consistently requesting Japan (accept) those three things, while putting our top priority on (safeguarding) the health and safety of our people,'' the foreign minister noted.
Tokyo announced Tuesday that it plans to start releasing over 1.2 million tons of Fukushima's contaminated water into the Pacific Ocean in two years, triggering a backlash from Seoul, Beijing and other neighbours.
The U.S., on the other hand, responded that the Japanese plan appeared to be in line with global standards.
U.S. Special Presidential Envoy for Climate John Kerry also said Washington was confident about Japan's consultation with IAEA over the plan, while visiting Seoul on Sunday.
Chung stressed that the U.S., though it expressed support for the plan, basically shared the same position with Seoul.
"The U.S. government stands with us as well on the basic principle that 'the Japanese government's nuclear power plant water release (plan) should get suitability verification from IAEA,'' according to Chung.
He said, however, that Seoul elaborated its position on the issue to the U.S. side and sought the country's understanding through various channels after the U.S. reacted to the Japanese water release plan showed many different elements from that of South Korea.
"Seoul is comprehensively studying various countermeasures (to take) in case Japan does not faithfully implement the obligations under the U.N. Convention on the Law of the Sea or customary international law,'' he added.