The Vice-Chancellor of the Kano State University of Science and Technology, Professor Shehu Musa, has underscored the importance of having young people as the drivers of the United Nations Sustainable Development Goals (SDGs).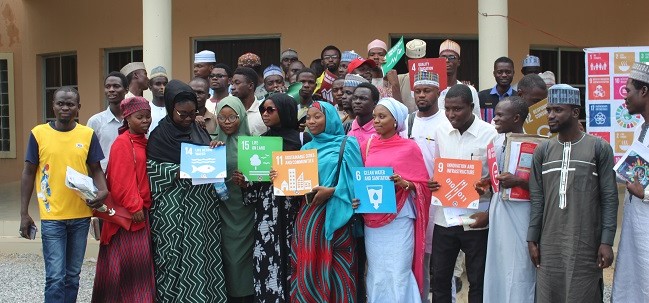 Addressing no fewer than 65 students during the SDGs4Universities Workshop hosted by the Kano University of Science and Technology, Wudil on Thursday, August 22, 2019, Professor Shehu said: "You (students) have the strategic position to make a contribution, you don't need to have a million naira or be a politician before you start making a difference. In one way or the other, you all are connected to at least one of these 17 goals and you must know that the realisation of this is largely dependent on you."
Reiterating the university's commitment to achieving the SDGs, Professor Shehu expressed his delight to the facilitating organisation, the International Climate Change Development Initiative (ICCDI), for considering Kano State University of Science and Technology and for training the students of the institution on how they can begin to practically take actions towards driving the SDGs in their local communities.
"We are fully receptive to collaborate with stakeholders to see the realisation of the SDGs. I hope that students of this institution will put to practice the lessons from this SDGs4Universities workshop," Shehu said.
The SDGs4Universities workshop is a project by the ICCDI, which has taken the knowledge of the SDGs to various tertiary institutions across the country.
Project Coordinator, Seyifunmi Adebote, said: "This workshop is part of our continued efforts to localise the knowledge and application of the United Nations' Sustainable Development Goals among university students, as well as to position them to solve some of the world's most pressing problems."
The workshop came to an end with the establishment of the KUST SDGs club in the university.
Though the 6th SDGs4Universities workshop, the Kano State University of Science and Technology is the first in the North-West region of Nigeria. The facilitators included Umar Farouk and Mufid Muhammad from Green Again Initiative, and Salihu Hamisu and Juwairiyya El-Yakub, alumni of the university.
The workshop was attended by not less than 65 students from different faculties, along with the Vice-Chancellor, Professor Shehu Musa; Deputy Vice-Chancellor (Academic), Professor Aminu Umar Fagge; Deputy Vice-Chancellor (Administration), Professor Tijjani Saleh Bichi; Dean of Student Affairs, Professor A. S. Ma'aji; and Dean Faculty of Agriculture, Professor Daraja, among others.
By Seyifunmi Adebote and Umar Farouk Ahmad, Kano