The Intergovernmental Panel on Climate Change, in collaboration with the African Academy of Science (AAS) and the United Nations University Institute for Natural Resource in Africa (UNU-INRA), has hosted a forum to explore the significance and implications of the IPCC Special Report on Global Warming of 1.5 °C for Africa.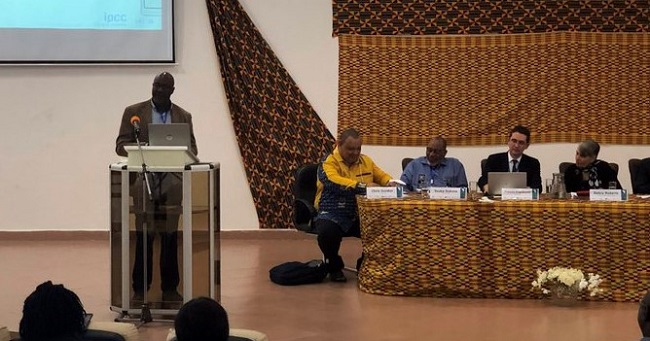 The aim of the multi-stakeholder dialogue was to provide a platform and opportunity for African governments, policy makers, academia, businesses, NGOs/CSOs, students and youth groups at local and national levels to critically examine key messages from IPCC Special Report on 1.5 degrees global warming in relation to Africa, specifically with respect to the pace and scale of transformational needs consistent with addressing climate change in the context of sustainable development, poverty eradication and equity in Africa.
The event also provided a forum and opportunity for African innovators, entrepreneurs and small, medium and large-scale businesses at local and national levels, to critically examine key messages from SR15 in relation to Africa, specifically with respect to the business implications of adaptation and mitigation options in Africa.
The two-day event, which held from July 25 to 26, 2019 at the University of Ghana in Accra, was attended by top governmental officials from across Africa, IPCC Executive Members and Lead Authors, members of the diplomatic corps, parliamentarians, the businesses and African scientists and students.
In their welcome addresses, Vice Chancellor of the University of Ghana, Ebenezer Oduro Owusu; President of the African Academy of Sciences, Professor Felix Dapare Dakora; and Director of the United Nations University Institute for Natural Resources in Africa (UNU-INRA), Dr Fatima Denton, each noted that significant climate change impacts were already being felt across Africa and called on all stakeholders to do their part to tackle the problem.
The President of the African Academy of Sciences, Professor Felix Dapare Dakora, stressed the role that science and innovation can play in efforts to tackle climate change and called on governments to commit more resources to funding high quality climate science in Africa.
Mr Hoesung Lee, Chair of the IPCC, represented by the Co-Vice Chair Working Group 3, Dr Youba Sokona, said that the 1.5 special report sends a clear message on the need for an unprecedented, urgent and large-scale transformation in Africa's energy, transport, and industrial systems. He said that the IPCC 1.5 report could be reduced to the simple message that: "Every bit of warming matters; every year matters and every choice matter."
Minister of Environment, Science Technology and Innovation of Ghana, Kwabena Frimpong-Boateng, represented by his deputy, Mrs Patricia Appiagyei, said that the IPCC outreach event was a necessary step in the democratisation of the climate science. She said that the government of Ghana is taking serious action to takle climate change and have already identified 31 concrete actions that will reduce two million tons of CO2 at the cost of $22.6 billion by 2040. Emphasis now, she says, was on sourcing for funding and working closely with scientists to design and implement the projects.
Speaking on behalf of IPCC 1.5 Authors, Professor Chukwumerije Okereke from the International Climate and Development Centre (ICCD), Alex Ekwumeme Federal University Ndufu-Alike in Ebonyi State, said that while climate change poses serious challenges to African economic development, it also offers the opportunity for Africa governments and businesses to focus on harnessing their abundant renewable resources to drive a green economy transformation in Africa.
He argued that the green economy was already a global imperative and stressed that countries that failed to understand and align their national economic plans accordingly will be the losers in fast-paced fourth industrial revolution. He also highlighted the lack of capacity for green economy planning and implementation in Africa, noting that the absence of low carbon economic growth plans in Africa represents a major gap in understanding the key challenges and opportunities for climate compatible growth pathways in Africa.
The participant from the Nigerian Department of Climate Change in the Federal Ministry of Environment, Ms Aishat Barde, called for the need for more data that will help African governments produce robust national climate communications and Biennial Update Reports (BUR).
Barde, a Senior Scientific Officer, said: "We need the IPCC to help scientists in Nigeria in terms of research, capacity building and funds in the establishment of Nigeria's National Inventory Management System."
Permanent Secretary of the Ministry of Fisheries and Water Resources in The Gambia, Dr Bamba Banja, stressed the need for governments to work more closely with scientists and businesses in forging climate solutions and urged the IPCC to consider taking the outreach event to other African countries.
The event featured feisty presentations from Ghanaian Youth Ambassador on Climate Change as well as dancing from Ghanaian cultural dance groups.
By Chukwumerije Okereke