Creative Youth Community Development Initiative (CYCDI) – Solution17 is partnering with Culturati, which is said to be the biggest art and cultural event in Nigeria, and The Art Hotel, a Five-Star Luxury Hotel, to champion the "Lagos Green Economy in Arts and Culture".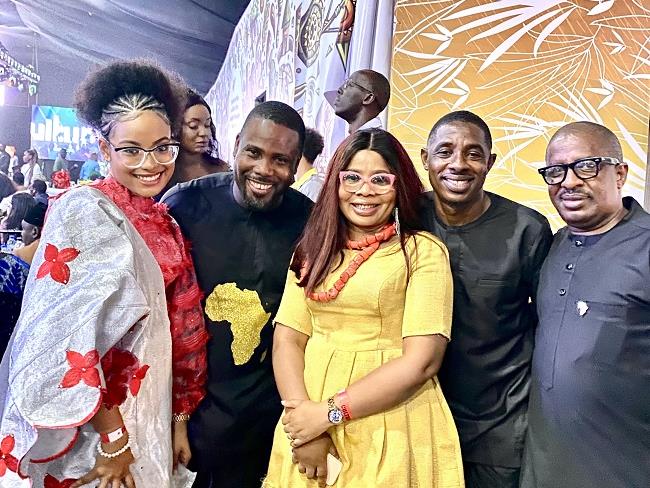 The 16th Edition of Culturati was held on Sunday, November 27, 2022, at the Federal Palace Hotel, featuring green economy in art, exhibitions, presentations, music and dance drama, art fairs, and fashion. The various elements are infused to highlight the economic potentials in African culture as well as opportunities for youth empowerment and environmental sustainability.
The Green Economy event was hosted by Solution 17's own Princess Marinay, an international presenter, climate change communicator, and youth advocate. She began her journey at the age of 11, under the participation of a literary and art competition hosted by "The Vision of the Child" in 2014.
At the event, Solution17 showcased green economy in art, storytelling, and culture in a way that depicts the ongoing climate crisis and communicates sustainable actions individuals can take to address the global issue and promote environmental sustainability. The event also featured Solution17 Climate Advocate, Artist and Poet, Victory Ashaka.
Managing Director of The Art Hotel, Mr. Tunji Abdul, stated that the organisation is committed to promoting art and culture in the hospitality industry. According to him, art offers a way to combine luxury with truly sustainable practices, hence their commitment to art whilst working towards reducing the carbon footprint.
CEO and Project Director, Foluke Michael, expressed her excitement to see culture and art come alive at the heart of Lagos State. She added that CYCDI-Solution17 is dedicated to promoting a green economy, innovative climate art, environmental sustainability, and youth empowerment through cultural practices.
She added that the event would enable the partnering companies to creatively and innovatively display the beauty of Africa infused in the diversity of its people.
The partnership with Solution17, Culturati, and The Art Hotel will promote and champion Solution17's ambitious goals while leading the way in green economy, art for climate change, creative display of culture, and implementing climate adaptation solutions in Nigeria and Africa.
It will also be a follow-up activity to the Just Act Campaign, a creative climate-emergency campaign launched by Solution17 on September 24, 2022, at the United Nations Global Week to #act4sdgs. The Just Act Campaign has a goal to galvanise action towards global net-zero emissions through Art, Movies and Music.
The recently launched Just Act movie shines a light on youth to take the driver's seat by advocating for clean energy, climate-smart agriculture, green transportation, waste-to-wealth and sustainable communities.