The National Centre for Genetic Resources and Biotechnology (NACGRAB), in collaboration with Global Crop Diversity Trust (Crop Trust), is forging ways to tackle current and future challenges to food security and climate change.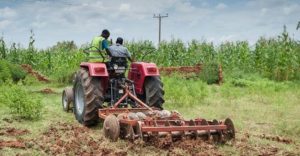 At a stakeholders' engagement meeting held in Ibadan, Oyo State, on Tuesday, November 29, 2022 along with the Seeds for Resilience (S/R) Project, Mr Olabisi Alamu, the Activity Leader, User Engagement Programme, NACGRAB, said the project is aimed at improving the use and management of germplasm collections through Germplasm Users engagement.
Alamu reported the progress on the project, expressing optimism that it would achieve its objectives.
"NACGRAB is a national gene bank and the project has helped us to evaluate the materials we have and we have a diversity of materials," he said.
Alamu said the project was to address the development of resilience seeds against climate change, so that farmers would have the local seeds to increase their productivity.
"We are developing the local varieties available in the gene bank and we are exposing the ascension to farmers.
"We train farmers on the development of the value chain.
"We have unique materials to combat climate change in terms of productivity, pest tolerant and high yield, which will enhance farmers' productivity," Alamu said.
Also, Carolin Kremheller, the Portfolio Manager, KFW, a German Development Bank, on behalf of German Development Corporation, said: "We are cooperating with Global Crop Diversity Trust through the Seed Resilience Project.
"We are supporting five national gene banks in Africa of which NACGRAB here in Ibadan is among them.
"We are on a monitoring visit to see the project activities that have been implemented.
"To see the facilities and to exchange with NACGRAB staff and management to learn about their challenges and see how this project can help them in overcoming the challenges.
"It is heartwarming that there had been good progress when it comes to training staff in spite of the COVID-19 pandemic.
"We also noted that the centre is having challenges with equipment, especially laboratory equipment at NACGRAB to do their daily job," she said.
Kremheller said that the programme would run for two more years, adding there are activities planned which include equipping NACGRAB through Crop Trust to solve the challenge of outdated infrastructure and power supply.
"The project is critical to food security in Africa; there is need to think in the longer term and mitigate the challenge of climate change as we are in a acute food prices and this project addresses that, not immediately, but in the long term.
"The programme engages with user groups and also with training farmers on different ascension of different crops.
"So, it is not just the science of what we are doing here, but also the outreach to the users of the gene bank," she said.
By Ibukun Emiola