Have you ever wondered what happens to your discarded fridges, televisions, laptops, handsets?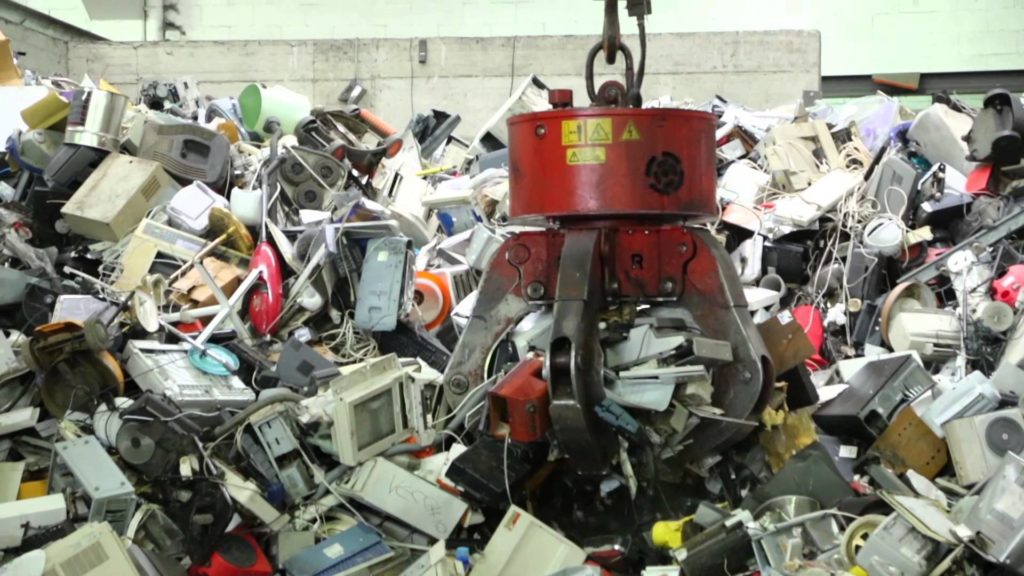 More often than not, these discarded products end up at dump sites, with scavengers digging them up as they search for precious materials.
According to experts, electronic waste, otherwise known as e-waste are discarded electrical appliances such as computers, office electronic equipment, entertainment device electronics, TVs, phones, etc.
It also includes used electronics, which are destined for reuse, resale, salvage, recycling, or disposal.
In many e-waste sites in the country, scavengers, including pregnant women and children, search for lead, cadmium, mercury, zinc, lithium, nickel, among others.
According to 2017 Global E-waste monitor report, there is an increasing global demand and upgrading of electronic products, which have resulted in the production of a large volume of electronic wastes.
The report says that, in 2017, Nigeria generated 290,000 tonnes of electronic waste and remains a major importer of second-hand electronics.
About 25 per cent of 60,000 tonnes of second-hand electrical and electronic equipment imported into Nigeria annually are non-functional and unserviceable on arrival.
Recently, the World Health Organisation (WHO) led e-waste site/Health Facility Environmental Health Risk Assessments to Lagos, Rivers and Kano states.
The aim was to identify and assess onsite characterisation, knowledge, perceptions and attitude at informal e-waste sites in the country,
Findings from the visit in Rivers revealed that no fewer than 500 children were estimated to be informally involved in collecting, dismantling, recycling and burning of e-waste.
In Lagos for instance, the Gidan Nkwali e-waste processing site had no fewer than 1,000 youths working without personal protective equipment, while the Ijora Mango site had over 3,000 youths, without adhering to safety standards etc.
Findings from Kano showed that an estimated 4,000 people live at the e-waste dismantling and recycling sites, excluding the population in the surrounding residential houses.
Over 500 children were estimated to be involved in collecting, dismantling, recycling and burning of e-waste, with many managers/handlers not aware of the health risk associated with nature of their activities.
There have been many reports about the increasing rate of cancers, birth defects in the country, with linkages to causes possible from exposure to e-waste exposures.
According to Dr Edwin Isotu-Edeh, National Consultant, Public Health and Environment, WHO Nigeria, raising awareness on the magnitude of e-waste exposure to human and health is a welcome development.
"The television you use in your house and mobile phones have some dangerous chemicals in them, when you throw them in the dustbin and it is not properly managed they can pose a health challenge to the society.
"Some people go to pick them up by removing something from them those dangerous chemicals may damage peoples' health.
"They can affect their lungs, organs, and make it difficult for children to have good memory, and also affect the immune system of everyone on that chain.
"The unused battery that people remove from their cars should not be disposed indiscriminately, they should be properly managed,'' he said.
He called for sustainability of current interventions as key to protecting Nigeria's gains in maternal and child and child health.
An environmental health expert, Mr Kunle Adebusuyi, said the rapid uptake of information technology around the world had created an unending thirst for new innovations.
This, he said, had made previously-owned electrical and electronic equipment to become obsolete following introduction of new designs and technologies.
According to him, informal processing of electronic waste in developing countries may cause serious health and pollution problems, especially with uncontrolled access to toxic substances like lead, mercury, barium, arsenic etc.
"E-wastes are not degradable by soil bacteria. They cannot be destroyed by burning. If these enter sources of drinking water like rivers or wells, they can cause serious health problems,'' he said.
In response, the Federal Ministry of Health and its Environment counterpart have strengthened partnership with stakeholders to form the technical working group for reducing the impact of electronic waste exposure and promoting public health safety.
The group has commenced nationwide advocacy and sensitatisation to reduce the impact of electronic waste exposure in the country.
Dr Shuaibu Bonji, Director, Climate Change and Environmental Health, Federal Ministry of Health, said discarded and obsolete electronic equipment was becoming a worldwide problem.
"The dangers posed by improper disposal of e-waste on the environment ultimately have impacts on human beings, the health effects of these toxins on human includes; birth defects which are irreversible.
"The brain, heart, kidney and other sensory organs can also be damaged. There is an urgent need for all stakeholders to take prompt actions,'' he said.
He also said that the ministry was optimistic that recommendations from the meeting would serve as a veritable tool for advocacy towards changing the narrative of poor e-waste management.
According to Dr Livinus Nwankwo, a director in the Ministry of Environment, electrical and electronic waste was massive in the country and the federal government is taking measures to address it.
"The Federal Executive Council has approved restricted importation of e-waste, such as age limits, into the country.
"When we do this, the age limit of these equipment will be placed so that those who do not make it are not imported into the country,'' Nwankwo said.
Similarly, Dr Baba Mohammed, Registrar, Environmental Health Registration Council of Nigeria (EHORECON), expressed optimism that with commitment from all stakeholders, Nigeria would mitigate the impact of e-waste and climate change
He said the proposed Environmental Health Management Information System would also be a platform for effective collection and management of data to assess and proffer solutions to e-waste in Nigeria.
Meanwhile experts have continued to plead with government to provide regulation and monitor the menace of indiscriminate activities at e-waste sites.
Dr Kingsley Okpara, the Director, Research and Documentation, Nigeria Environmental Summit Group, said with no fewer than 18 million adolescents involved in informal e-waste collection sites the challenge ahead is enormous.
He said it was unfortunate that Nigeria had delayed enforcing e-waste management regulation, adding that there was need for training of stakeholders to manage e-waste in the country.
Experts say to mitigate the challenge, tiers of government must invest in home-grown research and stop relying on foreign evidences on impact of e-waste exposure to public health.
They say with increasing dependence on technology, Nigeria would continue to increase e-waste products, thereby making urgently proffering solutions to the problem inevitable.
By Tosin Kolade, News Agency of Nigeria (NAN)