The International Society of City and Regional Planners (ISOCARP) last week in Quito became the latest of 46 partners to endorse the "Guiding Principles for City Climate Action Planning", launched by the United Nations Human Settlements Programme (UN-Habitat) and partners at the 2015 Paris Climate Summit (COP-21).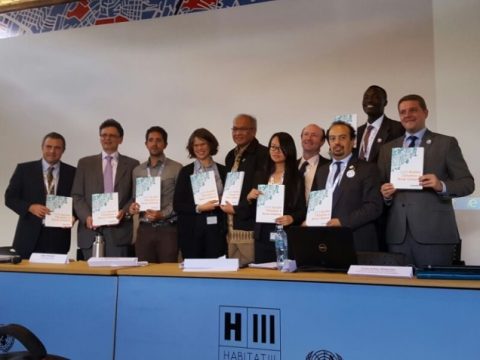 On 17 October 2016, UN-Habitat, ISOCARP and other endorsing partners launched the Spanish translation of the Guiding Principles at a networking event held at the Third United Nations Conference on Housing and Sustainable Urban Development (Habitat III) that held at the Ecuadorian capital city.
The Guiding Principles, developed through a robust and open multi-stakeholder process, evaluates typical steps in the city-level climate action planning process in accordance with a proposed set of globally applicable principles. The session saw interventions from the Deputy Governor of Jakarta, Indonesia, the World Bank, ISOCARP, Cities Footprint Project, San Diego State University, UN-Habitat, and was moderated by Yunus Arikan of ICLEI.
Since the launch of the Guiding Principles, UN-Habitat and its partners have applied the Guiding Principles to climate planning process in Vilankulo, Mozambique, Glasgow, Scotland, Rajkot and India. These assessments have provided encouraging results for the initiative, also yielding positive reception from these cities. The initiative has provided useful recommendations to help the cities both improve their planning process and plan document.
It is the objective of UN-Habitat and its partners to increase the sample of city-level assessments using the Guiding Principles, as well as in Latin America. Therefore, the launch of the Spanish translation in Quito, according to the UN-Habitat, is very timely.
"This Initiative hopes to both develop a network of promising practice around the Guiding Principles and a minimum standard that city climate action plans should meet," the body stated.