The Pan African Vision for the Environment (PAVE) is collaborating with the Department of City and Regional Planning at the University of California, Berkeley (UC-Berkeley) in the USA to investigate new strategies to explore how the human rights to water and sanitation can be successfully realised in Nigeria using Lagos as a case study.
Graduate students of the Department involved in the initiative are scheduled to arrive Nigeria on Saturday, June 26 and depart July 9, 2015.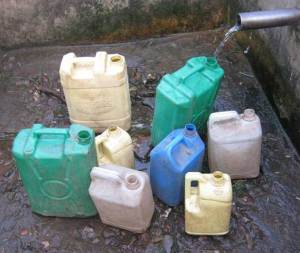 Using the access criteria delineated by the United Nations Special Rapporteur on the human rights to water and sanitation, the project will seek to create and pilot a mobile phone survey application for local community members, aid organisations and officials to collect and monitor data on water and sanitation conditions in urban Lagos. In addition, the researchers will carry out participatory mapping activities with community members to identify environmental barriers that impact access to safe water.
According to Anthony Akpan, President of PAVE, nearly 74% of the population in Lagos rely on water from informal sources as urban access to piped water has declined sharply since 1990. He pointed out that the use of groundwater sources has increased dramatically and the use of unimproved sources of water has increased, especially in informal settlements, some of which have the fastest rates of population growth.
He said: "While the Millennium Development Goals have contributed to a remarkable reduction in global disease burden and an increase in quality of life, universal access to safe water and adequate sanitation remains a challenge for many low- and medium-income countries. In 2010, the United Nations General Assembly and United Nations Human Rights Council recognized access to water and sanitation as human rights in UN Resolution A/64/292.
"This resolution has become a seminal event in changing global expectations regarding water and sanitation. Countries are therefore responsible and legally accountable to utilize available resources to ensure that universal access to water and sanitation is provided for all. More importantly, the criteria for universal access established by the UN go beyond any previous expectations concerning infrastructure or quality.
"The requirements constituting the human rights to water and sanitation were delineated by the UN Special Rapporteur in the five following categories; 1) Availability of water and sanitation, 2) Physical accessibility to water and sanitation, 3) Quality and safety, 4) Affordability, 5) Acceptability, dignity and privacy.
The growing recognition of the human rights to water and sanitation has increased demand for disaggregated monitoring. Countries without a robust and efficient monitoring system are unable to gauge existing conditions in hard-to-reach communities. Thus, the unmet need for information and survey tools poses a threat to realizing and complying with the United Nations guidelines.
PAVE has been working to advance better access to water in Nigeria for the past 15 years.