Following recent earth tremors in some parts of the country, some scientists have warned that earthquakes can be triggered by oil and gas exploration, especially in the Niger Delta region.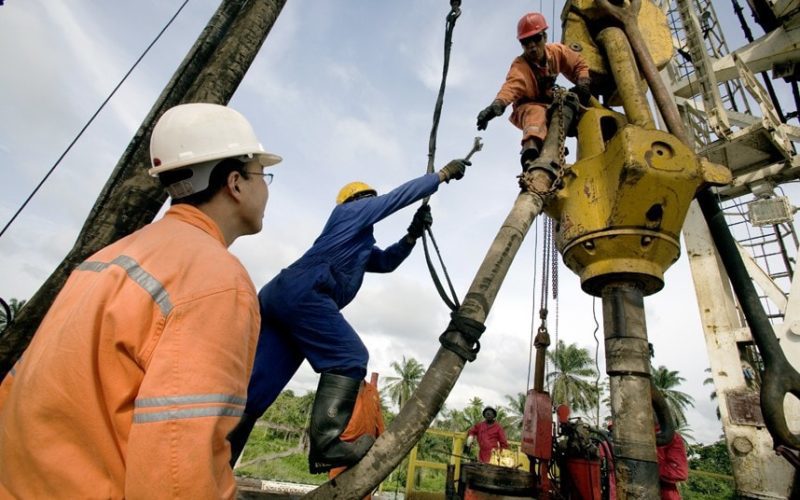 The News Agency of Nigeria (NAN) spoke with some scientists and stakeholders across the country recently against the backdrop of earth tremors in some states which has caused widespread panic and a cause for concern.
Most of the respondents warned that the country could be vulnerable to earthquakes and other seismological activities, said could be triggered by the oil and gas exploration, among other human activities.
NAN recalls that earth tremors caused a wide spread panic among residents of the affected communities of Akenfa and Igbogene in Bayelsa State, and Akinima, Akieoniso (Oruama) and One Man Country and Mbiama in Rivers State.
Tremors also happened many times in Saki, located in the northern part of Oyo State – a hilly town that lies near the source of Ofun River, which is about 60km to the Republic of Benin border.
The National Space Research and Development Agency (NASRDA) said that oil and gas exploration as well as human activities among others were the likely causes of tremor in the South South.
According to the Deputy Director, Media and Corporate Communications, of NASRDA, Mr Felix Ale, the organisation had done a preliminary report on the suspected earth tremors that occurred in July 15 and July 24 in Bayelsa and Rivers states respectively.
"The report shows that oil and gas exploration, suspected suture zones, and man-made activities are among likely causes of the incidents.
"At this stage, it cannot be concluded that the tremors occurred as a result of manmade activities in the region or from tectonic activities from natural sources until a detailed investigation in the entire South-South region is carried out by NASRDA's research team.
"The detailed analyses by the team will help the agency to adopt requisite mitigating measures to avert loss of lives and property in case of future occurrences.
"In view of the nature of earth tremors or earthquakes, especially natural tremors, the Space Agency is making plans to deploy monitoring seismic equipment to the affected region for continuous micro seismic and macro seismic activities.
"This is imperative because tremors will continue to occur in the future, depending on either natural or artificial causative agents.
"Scientists from the Centre for Geodesy and Geodynamics, Toro (Bauchi State), under NASRDA, are currently working on relevant seismic data to extract more information from seismic station located in Toro," he said.
Ale said that the scientists would also embark on a field trip to Kaduna, Ife and Abakiliki stations to acquire more data from the stations, saying comprehensive results from the detailed analysis would be made available in due course.
The agency said that similar tremor was observed at Saki, Oyo State, in May, which also sent residents of the area scampering for safety.
The agency said a team of researchers were immediately deployed to the affected areas and intensity was estimated as MM III-IV and local magnitudes as 2.5 to 3.0.
"Report on Saki incident has been submitted to the Space Agency for further studies,'' Ale said.
NASRDA enjoined citizens of affected areas and indeed the general public to remain calm as all scientific measures were currently being deployed to ascertain the causes of the earth tremors for possible mitigating measures.
"This is to avert loss of lives and property in case of future occurrences," Ale said.
A scientist and Director, Technology Acquisition and Adaption Federal Ministry of Science and Technology, Dr Adeneye Talabi, also attributed the incident of earth tremors to exploration of oil and gas.
Talabi said that the Federal Government needed to save more lives by enforcing all existing rules on exploiting natural resources.
Talabi said that the government should ensure due processes were followed to address tremors that occurred recently in the South-South region.
He said that the balance of the ecosystem had been distorted by the fact that oil had been extracted, adding that the vacuum created by extracting gas and crude oil ought to be replaced with close density commodity to avoid any future disaster.
"There is need for the Federal Government and the Nigerian National Petroleum Corporation, in particular, to enforce all the existing and rules guiding exploitation of natural resources like crude oil.
"Regarding the tremor at Bayelsa and Rivers, the fact that they have been extracting through the exploitation processes and methods, vacuum has been created, " he said.
He explained that Nigeria was not immune naturally against such occurrence, adding that every appropriate measures ought to be put in place to avert them in future.
He said that the country needed to carry out world best practices in the processes of extracting natural resources such as petroleum and natural gas.
"As a reasonable people, we should not allow the level of calamity that the Indonesia experienced which led to their tsunami.
"If there is a tremor, it is giving us sign indication, or symptom that the eventual higher degree of it which will translate into earthquake can occur.
"Earth tremor is more closely associated to earthquake. The earth tremor is just the shaking of the ground earth thrust while earthquake is a total collapse or opening up of the ground," he said.
A geologist, Dr Emmanuel Adanu, the Executive Director, National Water Resources Institute, Kaduna, said Nigeria needed to be keeping records of the various earth tremors in the country to prepare ahead of future tremors in the country.
Adanu said that the country used to have some equipment that could help in that direction but some of them were no more functioning.
"We have some of them in Zaria but are no more functioning," he stated.
According to him, tremors are products of certain natural actions like earthquake and volcano.
Adanu said: "Nigeria is not actually a tremor-prone nation but due to earthquake in the mid-Atlantic Ocean and volcano in some mountains around the country, some parts of the country may experience tremors occasionally.''
He said that some parts of South-West like Ibadan and Abeokuta might experience tremor due to volcano in the middle of the Atlantic Ocean.
"If there is severe volcano in the middle of the Atlantics, the tremor will converge through those perpendicular lines and you can have tremor in Abeokuta, Ibadan or the South West Nigeria.
"In the Jos Plateau, if the volcano becomes active, you can have tremor, in Bauchi, and Biu. So in Nigeria, we need to have proper record of them.
"If there are volcanic activities in Cameroonian mountain, it can lead to tremor in some parts of Taraba State," he said.
Adanu said that his organisation was doing some investigations to actually find the likely cause of tremor in Rivers and Bayelsa states, adding that volcanic activities around Benue trough could cause volcano in South-South region.
An environmentalist, Mrs Grace Martin, urged the country to mainly focus on agriculture by totally shifting attention from oil exploration.
Martin said that shifting attention from crude oil was necessary to avert likely major earthquake that could follow earth tremors being experienced in some places in the country.
"The tremor is created by us. It is an artificial tremor because anywhere you keep on drilling constantly looking for oil; you damage the base of the land itself.
"You have to crack the soil before you can be able to extract the crude oil.
"We did not have tremor before because there was not so much exploration of crude oil, '' she said.
She appealed to the Federal Government to discourage other states from trying to search for crude oil to deviate from such.
According to her, the reason China that has plenty oil does not explore it to make money is just to avoid problems of tremor and earthquake.
She said that the international communities were refraining from buying crude oil but now focusing on biogas, solar energy and wind energy.
"I will advise Federal Government to be honest and look inward to fully embark on agricultural projects on ground so that we will not be where we don't to be.
"Look at what happened in Thailand, Japan and Indonesian recently. In the next 15 years, if care is not taken, we may have a major earthquake in Nigeria.
"Talking about the ecosystem, we don't need that now, we cannot avoid the repercussion and the level of disasters that can happen to our people,' 'she said.
However, an architect, Mr Samuel Martins, said that exploration, drilling of boreholes and other mining activities could not cause earth tremor as was being alleged in some quarters.
Martins, who works with Computer Aided Design and Drafting (CADD) told NAN that although such human activities would not cause earth tremor, it was necessary to have in place a technology to determine when to continue or stop such activities.
He said that the earth tremor is not a sudden development but a situation that gradually moves to its climax.
Martins, however, said that there was need to deploy modern technology to assess geographical locations and measure their safety to human existence.
He identified the lack of such technology as a challenge in most developing countries; a situation he said would further compound such issues.
"In this side of the world, one of the problems we have is that we don't have machines and computers in place that can measure this type of tremor before they happen.
"The one that happened in Asia recently, that was a 7.0 earthquake, they knew to an extent before it happened.
"There are machines in place that can measure the size of tremor or earthquake, but we don't have that," he said.
He said that it was regrettable that most times actions were taken after disaster would have occurred.
He therefore called on the Ministry of Environment to acquire technologies that would identify and prepare people that could be exposed to such disasters.
Martins maintained that there was need to know the size of such tremor in order to identify its type.