By investing in infrastructure, security and the people, depressed cities in Nigeria can be turned around – just as examples in the United States have shown.
US Ambassador to Nigeria, Terrence McCulley, who made the submission recently in a presentation at the 50th Anniversary Lecture of the University of Lagos' Faculty of Environmental Sciences, urged the authorities to embrace good governance in order to address socio-economic challenges.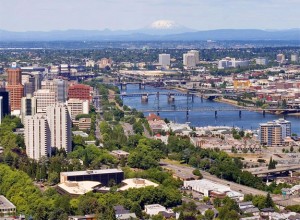 Using three American urban centres – Portland, Seattle and New York – as examples, he illustrates how a previously distressed city can be transformed.
While Portland revitalised its economy and saved itself from decline by improving transportation links and making the downtown area a nicer place to be, Seattle on its part avoided a long downturn by investing in its people, which McCulley states today has made it a centre of business. New York, on the other hand, battled petty criminals, while also using softer police tactics and direct outreach programme to engage its citizens.
"Anywhere where a government provides its citizens with potential and opportunities to capitalise on that potential, those citizens will be better prepared to deal with crises and challenges," discloses the diplomat in his presentation titled: "Leadership, Good Governance and Generative Cities as Pre-requisites for National Development."
He says, "In Nigeria, Lagos, Port Harcourt and Calabar have been among the cities lauded for good infrastructure improvements like port improvements and free trade initiatives that have allowed business to boom. But what happens to these cities if the oil industry dries up? Will they be like Seattle, which prospered in spite of – or perhaps because of – the decline of its biggest business, or will they be like Detroit, which remains in a downturn after the U.S. auto industry suffered its recent setback? It will be up to local, state and federal governments, along with their citizens, to plan for contingencies like this."
He identifies some similarities between New York in the 1980s and today's northern Nigeria, saying, "Whenever and wherever a population feels like its government is not providing an adequate quality-of-life, it becomes complacent to criminals, whether they are vandals or terrorists.
"The underlying cause in both cases was subtly different: New Yorkers in the 1980s and Nigerians in the north today felt betrayed by their governments, who had failed to provide the things citizens needed, like good schools and adequate infrastructure. Criminals and terrorists exploited these sentiments and took advantage of a dearth of government presence to grow their nefarious organisations."
According to him, this is one reason why the US supports the improvement of schools, health programmes and infrastructure in northern Nigeria as part of a comprehensive approach to the challenges posed by Boko Haram. "It is also a reason that the U.S. objects to the use of heavy-handed tactics by security forces taking on those challenges. Nigeria's government needs friends in the north, and a more targeted approach to tackling Boko Haram combined with better services for northern citizens can help it attract those friends," he adds.
The diplomat emphasises that urban revitalisation requires a holistic, long-term approach.
"If a city fixes its transportation links, but is still ridden with criminals, shoppers will not visit. Likewise, if a city fixes a crime problem, but has no easy means for residents to visit the safe downtown area and no businesses to develop there, it remains at risk of falling back into decline."
Good governance, McCulley states, requires a coordinated campaign to address issues, with a vision for the long-run result that policymakers hope to achieve. He contends that change rarely happens overnight, "which is often actually a good thing: it gives planners time to research and evaluate different options to select the best path to prosperity and security."
His words: "In today's Nigeria, people are migrating from rural areas into cities, which is changing the social dynamic. City-dwellers in the U.S. and Nigeria alike tend to want more government services than citizens who live farther from population centres, and city governments will have to address those wants. This migration is also likely to change the political and economic environment of Nigeria's cities, so leaders must be mindful of this evolution in order to consistently provide the best quality governance to their citizens.
"Finally, change always involves engaged citizens who contribute to the efforts their governments undertake. This is why it is also important for cities to recognize the positive role that Nigeria's significant informal sector can play in urban transformations. By constructively collaborating with informal workers, cities can not only achieve the goals of their projects, but also provide those workers with an economic ladder out of poverty.
"In the next 50 years, I know that this university will continue to provide a strong education for future government officials. I also hope that those of you who are not and will not become officials remain engaged in the political process, and in those parts of governance that happen between elections too. Lagos is your city, and Nigeria is your country. Make it a strong one."
Acting Vice-Chancellor, Professor Rahman Ade Bello, states that creating and maintaining a sustainable environment remain a pressing issue. He points out that cities are confronted with challenges such as environmental change, economic crises and more recently, terrorism.
"The calls for international partnerships and multidimensional solutions to these issues permeate the global agenda. Therefore, stakeholders in the built environment, in embracing the dynamism of our times, must be proactive. The decision of the university to hold today's event is a creative way to initiate this process," he declares.
Bello describes the topic as a propitious one, "given the challenges we currently face as a nation." He emphasises that the institution's location "in the premier city of Nigeria also necessitates the need for intensive discourse on the pertinent issues" related to urban development.
By Michael Simire