As one of the 20 beneficiary countries to the Africa Adaptation Programme (AAP), Nigerian journalists have been actively involved in a series of local and international training workshops under the programme's media development scheme.
So far, three sessions that involved Nigerians have held under the AAP media project, which is being coordinated by Nairobi, Kenya-based United Nations Office for Project Services (UNOPS) and Washington, USA-based International Centre for Journalists (ICFJ).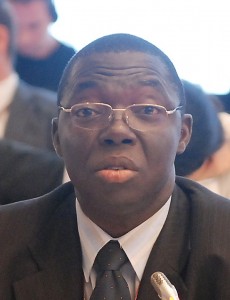 The scheme is aimed at building the capacity of journalists in the 20 AAP countries to report on, and raise public understanding of the need to mainstream climate resilience into national development strategies.
Five Lagos- and Abuja-based environmental journalists in the print, broadcast and online media represented the country during the flagship international training session in Koforidua, Ghana from September 12 to 14, 2011. The journalists were: Doris Okenwa (Channels TV, Abuja), Kayode Aboyeji (Nigerian Compass, Lagos), Tina Ogbonna-Armstrong (Choice FM, Lagos), Alex Abutu (AfricaSTI.com, Abuja) and Michael Simire (Independent Newspapers, Lagos).
They were part of a group of 20 journalists from Ghana, Nigeria, Lesotho, Namibia and Sao Tome/Principe, which form Cluster D, one of the four clusters under the programme. A Ghanaian journalist, Mary Ama Kudom-Agyemang, who is coordinating Cluster D country activities, is one of the four coordinators hired to facilitate and spearhead the project implementation in the cluster countries.
Kudom-Agyemang and Jacqueline Frank (Regional Project Coordinator of the AAP Media Capacity Development) facilitated the workshop.
Other participating countries were: Burkina Faso, Cameroon, Congo, Ethiopia, Gabon, Kenya, Malawi, Mauritius, Morocco, Mozambique, Namibia, Niger, Rwanda, Senegal, Tanzania and Tunisia.
The training enhanced participants' skills to better inform the public with their reportage by enhancing the quality of reporting, through making stories locally relevant, and inclusive of otherwise marginalised voices.
The Koforidua forum was followed by in-country trainings that featured journalists from selected media houses within each country. In Nigeria, 19 out of the earmarked 20 participants gathered at the Peninsula Resort Hotel, Lekki in Lagos from October 17 to 19, 2011.
They included Thomas Adejo (New Nigeria Newspaper, Kaduna), Damian Daga (The Voice Newspaper, Makurdi), Bilikisu Hassan (Pyramid Radio, Kano), Femichit Yarnap (Nigeria Television Authority – NTA, Jos), Diana-Mary Nsan (Cross River Broadcasting Corporation, Calabar), Chidi Nnadi (The Sun Newspaper, Enugu), Chinyere Opia (Hot FM, Owerri), David Obi (Beat FM, Port Harcourt) and Jacqueline Ogoh (Voice of America, Lagos).
Others were Chinyere Amalu (Leadership Newspaper, Abuja), Vivienne Irikefe (Thisday Online, Lagos), Tunde Akingbade (The Guardian on Sunday Newspaper, Lagos), Ugochi Anyaka (Aso Radio FM, Abuja), Jennifer Igwe (NTA, Lagos), Shingdon Bala (Federal Radio Corporation of Nigeria – FRCN, Kaduna), Laide Akinboade (Vanguard Newspaper, Abuja), Comfort Agbai (Metro FM Radio/FRCN, Lagos) and Okwy Iroegbu (The Nation Newspaper, Lagos).
The workshop was facilitated by Kudom-Agyemang (Cluster D Team Leader), Michael Simire (Training Assistant) and Geoffrey Omedo (AAP Programme Research Associate).
Just like the international session that held in Ghana, participants were exposed to relevant issues such as the elements of climate change reporting, climate change and gender, social media, investigative journalism and the scope of climate change reporting. The training was interactive and it involved discussions, exercises and field trips to the offices of the Lagos State Waste Management Authority (LAWMA) and two sites along the Lagos Lekki Peninsula shoreline ravaged by coastal erosion and ocean surge.
The fourth day of the event featured visits by the facilitators to media institutions such as Metro FM Radio/FRCN, Independent Newspapers and Development Communications Network (Devcoms). The idea is to build a constituency that will appreciate and support African journalists to highlight climate change issues in their reportage.
Seeking the support of the senior media officials, Kudom-Agyemang said, "African media can play a key role in influencing public and private opinion by effectively and accurately investigating, interpreting and reporting on climate change issues and events. The AAP seeks to enhance discussion of climate change by print, broadcast and web-based journalists and other media professionals, and build their capacity to raise awareness among multiple stakeholders."
The Lagos in-country workshop was followed by a Training of Trainers (TOT) course, which held in Nairobi, Kenya from January 16 to 20, 2012. Besides Simire (Nigeria), other participants at the weeklong event were Fredrick Asiamah (Ghana), Abdoulaye Barry (Senegal), Ben Chokri (Tunisia), Erick Kabendera (Tanzania), Joseph Leger (Cameroon), Emery Mandilou (Republic of Congo), Charles Mangwiro (Mozambique), Marafaele Mohloboli (Lesotho), Emmanuel Muwamba (Malawi) and Beatrice Obwocha (Kenya).
Others included Liliane Oyoue (Gabon), Nicholas Rainer (Mauritius), Djibril Saidou (Niger), Rachid Tarki (Morocc), Mekonnen Tollera (Ethiopia), Laetitia Umuhoza (Rwanda) and Annelien Van Wyk (Namibia).
Apart from Kudom-Agyemang, the other cluster country activities coordinators under the programme (Joachim Buwembo from Tanzania, Mamadou Ndiaye from Senegal and Emmanuel Wongibe from Cameroon) were also part of the TOT event, which likewise featured Frank, Omedo, Charles Dickson (AAP Communications Specialist), Luke Dunstan (AAP Communications Officer), Gifti Nadi (AAP Communications Specialist), Michelle Betz (ICFJ Programme Manager) and Justin Arenstein (ICFJ Knight International Journalism Fellow).
The TOT orientation produced a cadre of experienced climate change journalists who will be leading workshops and capacity building activities in their own countries. The orientation also represents a fresh phase of the AAP Media Capacity Development project, which will culminate in, besides the emergence of new trainers, the production of a Guide to Climate Change Adaptation Journalism, and a Media Resource Library.
The AAP was established under the Japan-United Nations Development Programme Joint Framework for Building Partnership to Address Climate Change in Africa, which was founded at the Fourth Tokyo International Conference on African Development (TICAD) in May 2008.
The $92.1 million programme, funded by the Government of Japan, was launched in 2009 by the United Nations Development Programme (UNDP) in partnership with the United Nations Industrial Development Programme (UNIDO), the United Nations Children's Fund (UNICEF) and the World Food Programme (WFP). The AAP runs until the end of 2012.
By Michael Simire