Nigeria and several other Africa countries facing the climate change challenge will benefit from a $6.4 billion fund to tackle the global menace, according to the African Development Bank (AfDB), which is providing the financing.
Anthony Nyong of the AfDB, who made the disclosure on Monday in Doha, Qatar, stated that the money would support low-carbon and climate-resilient development in the continent over a five-year period starting from 2012.
Nyong spoke at a forum on ''Financing climate change: Africa's access to convention funds" at the ongoing 18th Session of the Conference of the Parties (COP 18) to the United Nations Framework Convention on Climate Change (UNFCCC) holding in the Qatari capital city.
Nyong said the dedicated fund would be used to address climate change challenge in the continent, build resilience and green economy for the countries because of their high vulnerability to the negative impact of the phenomenon.
This disclosure came as the bank launched a report titled: "Getting Africa ready for the Green Climate Fund (GCF)". The GCF will enable African countries to access significant flows of climate finance from multilateral funds.
He said recent assessments show that Africa received only $132 million between 2004 and 2011 from dedicated climate financing instruments to support adaptation, noting that this amount is paltry when set against Africa's needs of $40 billion per year until 2030 to tackle the challenge.
The new report however made a series of recommendations for the GCF board, African Nations and the AfDB aimed at increasing the likelihood that African nations would be able to directly access significant flows of climate finance from the GCF.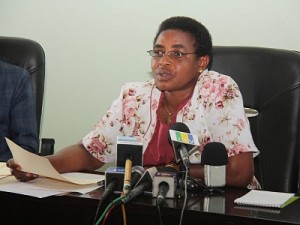 President, African Ministerial Conference on Environment (AMCEN) and Minister of Environment of Tanzania, Mrs. Terezya Huvisa, stated at the event that financing climate change is the major challenge of Africa. She noted that continent, with her low emission of greenhouse gases (GHGs), is facing the negative impact of climate change such as devastating floods, diseases and numerous other environmental challenges.
According to her, the numerous conditions attached to climate funds make them difficult to access, adding that while countries in the continent are crying foul for funding, the developed countries are claiming that they are supporting the continent financially to tackle the challenge.
"Something is wrong in between and we must find out," she said, adding: "We need this environmental fund so much to meet the challenges of climate change."
Ms Saliha Dobardzic of the Global Environment Facility (GEF) disclosed that significant investment of the organisation is in Africa, adding that $900 million has been spent on mitigation while about $350 has also been spent in terms of grants on adaptation.
The AfDB also presented a brochure that highlights the bank's response to climate change in Africa. The document illustrates successful programmes and projects managed by the AfDB together with development partners in key economic sectors including energy, transport, water and sanitation, agriculture and health.
By Kayode Aboyeji