Minister of Environment and head of Nigeria's delegation to the Eighteenth Session of the Conference of the Parties (COP 18) to the United Nations Framework Convention on Climate Change (UNFCCC) holding in Doha, Qatar, Mrs. Hadiza Mailafia, on Wednesday called on the global community to tackle the challenge of climate change.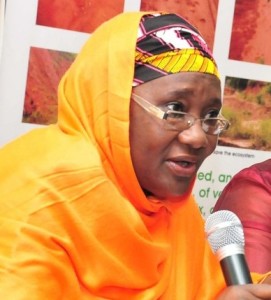 Specifically, she called on the developed nations to show more commitment and the necessary political will to reduce their carbon emissions, even as she alluded to the agreement on post-2012 commitment to the Kyoto Protocol.
Mailafia, who stated this in her address to the President of COP 18, stressed the need for concerted and collaborative efforts of all Parties to meet their respective commitments and obligations while operationalising the Copenhagen Accord, the Cancun Agreement and the Durban Platform for Enhanced Action.
According to her, climate change has become one of the greatest threats to the socio-economic wellbeing of Nigerians and indeed the survival of the country, noting that the country has consistently witnessed, across its length and breadth, the disastrous and harmful impact of extreme and weather-related events on human lives and livelihood.
She stated: "This convinces us the more that climate change is real, climate change is disruptive to lives and livelihoods and climate change needs to be urgently tackled by the global community. The massive and widespread floods we experienced in Nigeria this year were unprecedented, given the historical record of climate events in the country. Many of my fellow citizens were rendered homeless and the destruction of infrastructure and agricultural farmlands were attendant consequences of the flood which ravaged Nigeria between September and December of this year. It is sad to note, Mr. President, that several lives were lost and hundreds of thousands displaced."
The minister disclosed that the Federal Government of Nigeria has put in place a strategy to tackle the challenges of climate change through a holistic and coordinated national approach.
"In this regard, a number of national initiatives and institutional reforms have been undertaken, including the approval of Nigeria's National Policy on Climate Change and the National Adaptation Strategy and Plan of Action (NASPA). Furthermore, we have completed the National Strategy and Action Plan for the Great Green Wall for the Sahara and Sahel and we have commenced implementation of our REDD+ Programme. Both initiatives are aimed at addressing deforestation, retarding the southward advance of the Sahara and contributing to climate change mitigation."
She said efforts to achieve substantial outcome at previous meetings, particularly in Copenhagen, Mexico, and Durban, have failed to yield the expected outcome. She, however, called on all Parties to commit themselves to transparency and openness in the process.
Mailafia added: "On our part, we are firmly committed to seeing that current areas of contentions with respect to the financial mechanism, adaptation framework, institutional arrangements, technology transfer and capacity building are resolved to the benefit of all Parties.
"The Nigerian delegation is convinced that we have the collective ability to ensure that the outcome of this Conference will be comprehensive, adequate and equal to the task of addressing the fundamental challenges of climate change. What is required is just the requisite political will to act accordingly by doing what is right for our planet. Our expectation is that an ambitious emissions target must be set and met by the developed country Parties. They should also support efforts by African developing countries to adapt to the negative impact of climate change."
By Kayode Aboyeji