The National Emergency Management Agency (NEMA) has expressed worry over the level of erosion menace in the southeast of Nigeria.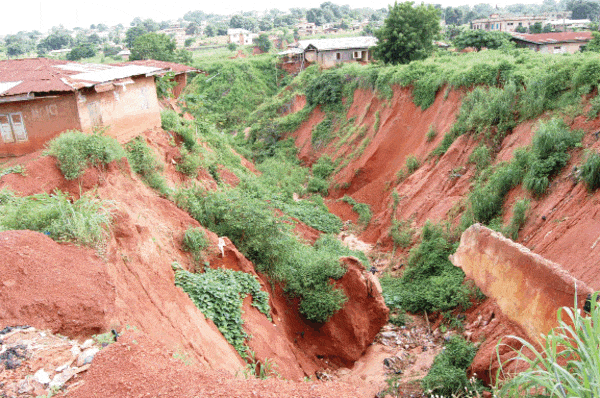 Mr Walson Ibarakumo, the Enugu Regional Coordinator of the agency, expressed the sentiments in an interview with the News agency of Nigeria (NAN) in Awka, the Anambra State capital, on Thursday, August 23, 2018.
Ibarakumo said among other emergency issues such as flooding and fire, erosion ranked topmost in the threat facing the people of the southeast and their livelihood.
He said Abia, Anambra, Enugu and Imo states are seriously affected by erosion menace, adding that only Ebonyi had been enjoying relative stability in the area.
The coordinator said that NEMA was redirecting its attention to healthy environmental management and increasing awareness on erosion.
"Erosion is very serious; the impact is much here in the southeast. They are majorly hit.
"We have been to places where electric installations were destroyed and major infrastructure damaged.
"In our next stakeholders' meeting, we are going to focus on erosion; if I may classify southeast, erosion is number one ahead of flooding and fire because of the impact.
"Though I have not seen much of it in Ebonyi, all other states in the region are under serious threat of erosion or the other.
"That is why we are moving attention to erosion and better management of the environment," he said.
Ibarakumo said though flooding has not been massive this year, the chances are not entirely over.
He said that 20 communities in five council areas in Anambra were badly affected by rain-induced flooding between June and August.
He listed them as: Anambra East, Anambra West, Anyamelum, Awka North and Onitsha South.
He said that on-the-spot- assessment in theses council areas showed that many people were temporarily displaced, and large expanse of farmlands and machinery destroyed.
He said the displaced families had gone back to their homes but added that the camps for IDPs were still being kept ready because the peak of flooding was being anticipated in September.
"The flooding that came was as a result of the heavy rains, but after about three days the affected people returned to their houses.
"Because of the forecast we are looking forward to taking them to IDP camps which we have created. The outlook is still cloudy going by the forecast.
"We expect flooding in September, so the danger is not entirely averted because September is when river flooding is expected to be at its peak.''
He said that many livelihoods were  also affected, especially, farms and farming equipment.
"We are working on their resettlement, I am hopeful that very soon assistance will come their way based on the impact of damage," he said.
By Chimezie Anaso