Nnimmo Bassey, Director, Health of Mother Earth Foundation (HOMEF), at the FishNet Dialogue held at Keta, Volta Region, Ghana on Thursday, August 23, 2018, describes oil drilling as a threat to the natural heritage of coastal communities, adding that the venture is a tragedy to marine life forms, as it kills and injures them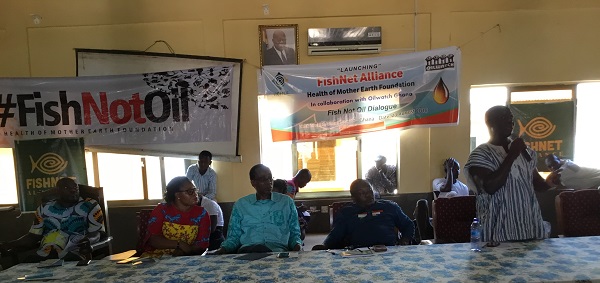 When we say that fish is more valuable than oil, we are staying a plain fact. Fish are living organisms whereas crude oil comes from fossils or long dead matter. Fish support our life with necessary protein. It is estimated that about 63.2 percent of Ghanaians depend on fish for animal protein. Marine resources provide the backbone of the economy and social life of many coastal communities.
They employ millions of peoples across the coast lines of Africa and in both Great and small lakes on the continent. The economic value of artisanal and small-scale fishing includes the big population of processors and sellers that are mostly women. To these must be added the families that depend on them and the income from the sector. With these considerations and in comparison, to the negative impacts of oil exploration and extraction in our waters, the fishing sector is more valuable and needs to be consciously protected.
Before the arrival of oil and gas rigs in our territories we enjoyed pristine waters and we could fish freely in the deep offshore and on the inland shores. Our people could literally pick sea foods from the shallow waters and from the creeks. Oil activities in our waters have raised serious security concerns, with large areas around oil installations becoming off limits to fishers. Sadly, oil fields have notoriously been found in areas with endemic fish species. Besides oil spills from offshore oil operations, they also pollute the oceans with drilling muds, pipeline leaks, produced water and deck runoff water. These have considerable impacts on the fish, coral reefs and water birds in the short and long terms.
When the seismic ships arrive, trouble knocks. Oil companies invest a lot in their search for oil reserves. Governments readily back these searches because both corporations and governments benefit from huge reserves as the market value of an oil company rises as their reserves rise. Governments that belong to a cartel like the Organisation of Petroleum Exporting Countries (OPEC) can press for higher production quotas depending on how much reserves they can show that they have. While their reserves rise, so do the pains and poverty of the fishers.
Seismic testing is often carried using multiple air guns that emit thousands of high-decibel explosive impulses to map the seafloor. The engineers repeat the blasts from the seismic air-guns every ten seconds and all through the day and these go on for days and weeks at a time.
These activities are known to disorientate marine mammals such as whales and other marine life. This happens when the sensory organs of these aquatic animals are affected causing them to lose their sense of orientation as well as ability to track food sources.
You are witnesses to the many whales that have died off the Ghanaian coasts in recent years. Right here in Keta, a dead whale washed onshore at the Tettekope beach on Tuesday, September 19, 2017. A total of 24 whales died on the coasts of Ghana between 2009 and 2013. While the government and oil companies keep insisting that the deaths of the whales have nothing to do with oil and gas exploration and extraction, what cannot be denied is that the alignment of the incidents and oil exploration and exploitation are too close to be ignored.
In South Africa, as exploratory activities intensify off the coast of Durban, concerns have risen over the fate of the highly valuable marine ecosystem there. Just this week a dead whale washed onshore. Before the beaching of the whale, scientists were worried that a particular fish species that has survived millions of years including the ice age, without much change, may not be equipped to withstand oil pollution. Last week a baby whale washed onshore on the coast of Delta State, Nigeria. These incidents have become more regular in recent times.
Oil drilling is a resounding tragedy to marine life forms, killing and injuring them. It is a threat to the natural heritage of our coastal communities. It is time for our nations to ban extractive activities and reckless fish exploitation by local and foreign fleets in our waters, create marine parks and protect them. Our fishers are getting tired of going all night in search of fish and returning home only with polluted nets.
Our FishNet Dialogues provide spaces for us to interrogate changes in the state of our marine environment and to map actors negatively impacting our marine ecosystems, and to proffer actions that must be taken to halt the harms. During our conversations today, we will ask ourselves some questions. Such questions will include whether crude oil is in anyway more valuable to us than fish. We will compare how many persons work in the oil sector to the number that work in fisheries. We will also ask which of these supports our local livelihoods, natural heritage and socio-cultural activities.
As you will see, we are not here to give or receive lectures. We are here to have a dialogue, listen to ourselves, ask questions and collectively seek answers. We are here to seek ways we can work together and extend the webs of solidarity to other fishers who could not join with us today.
Health of Mother Earth Foundation is pleased to collaborate with Oilwatch Ghana and our fishers here in Keta to make this gathering happen. We also welcome FishNet Alliance members form Togo to the gathering.