A community in Maryland in the US suffered "severe" damage from floods, including damaged buildings and cars swept away by rushing water, after around six inches of rain fell in the area on Saturday, officials said.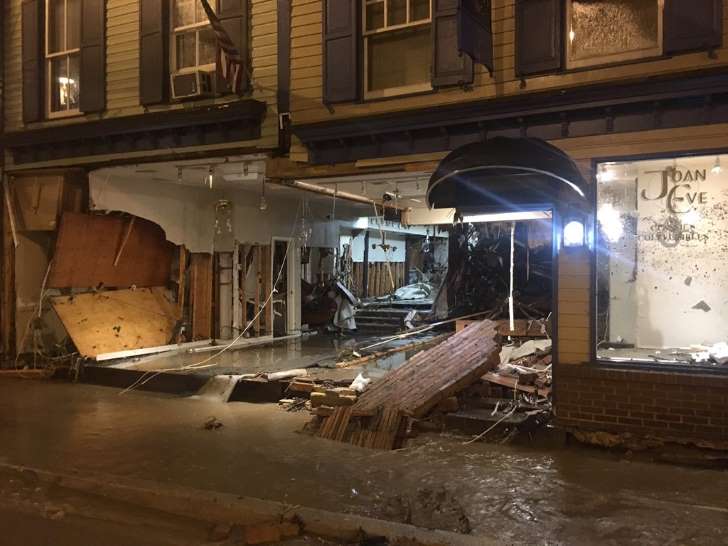 Howard County Executive Allan Kittleman told WBALTV flooding caused damage to buildings and cars in Ellicott City, a town of around 65,000 in Howard County, about 12 miles west of Baltimore.
"There's severe damage in Ellicott City and a lot of road closures in that area," Kittleman said. Photos showed damaged buildings that appeared to have partially collapsed.
There were some water rescues but Kittleman told the station he wasn't aware of any serious injuries.
The town's historic Main Street area suffered some of the worst damage, Kittleman said. Howard County Fire & EMS warned people to stay out of the area, and warned of many road closures.
"Many buildings have significant damage, a lot of cars were damaged – there were cars floating down there, as I heard," he told the station. Kittleman said late on Saturday the water had subsided somewhat.
Just before midnight, Kittleman declared a state of emergency for Howard County. The county opened a community center as a shelter for people who were displaced.
The National Weather Service warned of a flash flood emergency in Howard County and areas southwest of Baltimore and said "severe flooding" was occurring Saturday night.
Just over six inches of rain was recorded in Ellicott City. Parts of Montgomery County, southwest of Howard County, saw 5.1 inches of rain, according to unofficial measurements, the weather service said.
There was also flooding in Baltimore. The Baltimore Fire Department said one person who was trapped was rescued and three others were helped out of standing water.