The wife of Nigeria's President, Hajia Aisha Muhammadu Buhari, will on Monday, August 1 2016 in Abuja unveil the National Referral Mechanism for Protection and Assistance to Trafficked Persons in Nigeria (NRM).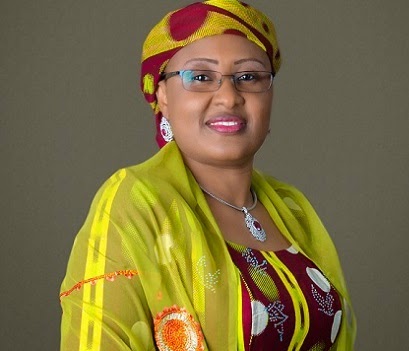 The launch of the document, produced by the National Agency for the Prohibition of Trafficking in Persons (NAPTIP) with the support of the United Nations Office on Drugs and Crime (UNODC) under the European Union (EU) funded "Promoting Better Management of Migration in Nigeria" project, is the grand finale of the various activities lined up to mark the "World Day Against Trafficking in Persons" 2016 in Nigeria.
The guideline aims at organising service providers in geographical and service clusters to improve protection and assistance services to Trafficked Persons (TPs) using the human rights-based approach.
As a build-up to the event, the Representative of UNODC in Nigeria, Ms. Cristina Albertin, at the weekend reiterated calls for comprehensive protection of victims of human trafficking including rehabilitation, reintegration and restitution of rights, even as she praised the courage of trafficking victims and encouraged them to step-out of the shadow of their harrowing experiences and embrace the bright future ahead of them.
Thirty-three rescued victims with age range six to 23 years and comprising nine males and 24 females drawn from shelters operated by NAPTIP, Women Trafficking and Child Labour Eradication (WOTCLEF) and Daughters of Abraham Foundation were showered with gifts at the event. Altogether, 295 human traffickers have been sentenced to different jail terms in recent years while many cases are pending in courts.
Meanwhile, the UN Secretary-General Ban Ki-moon has called for better protection of migrants in order to shield them from human traffickers who prey on their desperation and vulnerability.
He said: "We must do more to shield migrants and refugees and particularly young people, women and children from those who would exploit their yearnings for a better, safer and more dignified future. We must govern migration in a safe and rights-based way, create sufficient and accessible pathways for the entry of migrants and refugees, and ultimately tackle the root causes of the conflicts – extreme poverty, environmental degradation and other crises which force people across borders, seas and deserts.
"I call on every nation whether country of origin, transit or destination to recognise our shared responsibility. As a first step, we need a strong legal basis for action. I encourage all states to adopt and implement the UN Convention against Transnational Organised Crime and its protocol on human trafficking as well as all core international human rights instruments.
"I urge everyone to recommit to protect, respect and fulfil the human rights of all migrants and refugees. Creating and supporting well-governed, safe and human rights-based migration and asylum procedures will be an important step towards ending the abhorrent practice of profiting from human despair and misery."
Similarly, Executive Director of UNODC, Yury Fedotov, has urged governments, companies and individuals to support the United Nations Voluntary Trust Fund for Victims of Trafficking in Persons. The Trust Fund is financed solely through voluntary donations. The Fund works with NGO partners across the globe to assist trafficking victims, providing shelter and vocational training and schooling, as well as access to health, psychosocial, legal and economic services.
These issues will be central to the UN Summit for Refugees and Migrants, to be held in New York on 19 September 2016. This meeting aims amongst other goals to win renewed commitment for intensified efforts to combat human trafficking and smuggling of migrants and refugees, ensure protection and assistance for the victims of trafficking and of abusive smuggling, as well as all those who suffer human rights violations and abuse in the course of large movements, and promote respect for international law, standards and frameworks.