The Food and Agriculture Organisation of the United Nations (FAO) has urged countries in the Economic Community of West African States (ECOWAS) region to seize the opportunity for low-carbon growth trajectories by mobilising every possible financial and technological resource, either domestic or international, to reduce emission.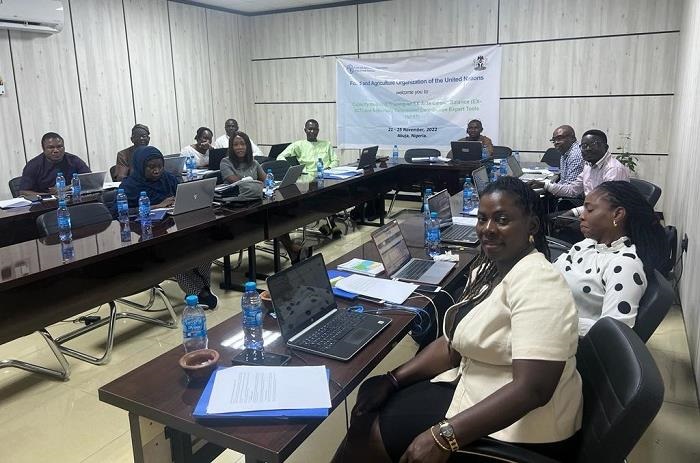 Mr Gouantoueu Guei, Sub-Regional Coordinator for FAO Sub-Regional Office for West Africa (FAOSFW), who made the submission at the opening of a capacity building session that held from November 21 to 25, 2022, shed some light on the "technical solutions" by which to achieve this, describing them as "the spirit of the Nationally Determined Contributions (NDCs) that the ECOWAS Member States have submitted as their commitments to meet the objectives of the Paris Climate Agreement".
The session was titled: "Capacity Building Training on the Carbon Benefits of Forest and Landscape Restoration and Contribution to Nationally Determined Contributions: The EX-Ante Carbon Assessment Tool (EX-ACT) and the Nationally Determined Contribution Expert Tool (NEXT)".
Addressing the audience at the hybrid gathering that had in attendance participants from Nigeria, Sierra Leone, Liberia, Ghana and Gambia, Guei, represented by Mehdi Drissi, Senior Programme Officer, FAOSFW, disclosed that one of the technical options that can be deployed immediately is to reduce carbon dioxide emissions through the reduction of deforestation and forest degradation, and the adoption of more sustainable agricultural practices, such as reduction of tillage, as well as integrated management of inputs and water.
Another option, according to him, is to reduce methane and nitrous oxide emissions through the improvement of animal production, management of livestock effluents, as well as more efficient management of rice irrigation systems and inputs.
A third option, he said, is to store carbon through the use of conservation agriculture practices, improved management of forestry practices, afforestation and reforestation, improvement of pastures and restoration of degraded soils.
Guei added: "To make a meaningful change towards a more sustainable future driven by a credible plan to get to net zero, agriculture needs to identify what activities release GHG emissions and calculate how much they contribute. This is where carbon accounting steps in.
"As the process used to measure the amount of carbon dioxide that countries, agriculture and other businesses related activities, or even individuals emit into the atmosphere, carbon accounting provides a framework for understanding their climate impact so they can set targets to limit these emissions."
He described agriculture as a major driver not only of climate change but also of a range of other environmental problems, such as land-use change, biodiversity loss, depletion of freshwater resources and pollution of aquatic and terrestrial ecosystems through nitrogen and phosphorus run-off from fertiliser and manure application.
According to him, the ex-ante accounting of greenhouse gas emissions as part of investments in agriculture should:
help developing countries to formulate agricultural strategies focusing on low carbon agriculture;
develop a strategy and action plan to ensure systematic accounting of GHG emissions captured in agriculture, forestry and other land uses so that these countries can benefit from the future revision the GHG Emissions Trading Protocol and its implications for their Nationally Determined Contributions; and,
link the results of GHG emissions assessments to an economic and financial analysis from project formulation stage.
Guei disclosed that the main objective of the training is to build capacity related to the restoration of degraded forest landscapes, focusing on topics such as the carbon costs and benefits of Forest Landscape Restoration its contribution to NDCs.
"This training will be an opportunity to share experiences and expertise, thus contributing to regional dynamics and knowledge sharing. The training mainly focuses on two tools: the EX-Ante Carbon Assessment Tool (EX-ACT) and the Nationally Determined Contribution Expert Tool (NEXT)," he said.
The EX-Ante Carbon Assessment Tool (EX-ACT), developed by FAO, is an example of a decision support tool. It provides ex-ante estimates of the impact of land use and land use change on GHG emissions and carbon sequestration. EX-ACT illustrates the impact of proposed activities, where the carbon footprint is selected, and a climate change mitigation indicator is selected. The tool is applicable to investment projects, value chains and/or policy scenarios.
The Nationally Determined Contribution Expert Tool (NEXT) is a greenhouse gas accounting tool developed by FAO to support the annual environmental impact assessment of the agriculture, forestry, and other land uses (AFOLU) sector. NEXT provides a 30-year time series of annual and cumulative estimates of carbon removal and greenhouse gas emission reductions resulting from climate actions by Parties to the Paris Agreement. NEXT provides a comprehensive environmental and economic overview of climate actions to achieve a mitigation target. The tool helps countries interpret, track and scale up the ambition of NDCs and other climate actions.
His words: "Like other regions of the world, the West African sub-region is today confronted with the effects of climate change which affects all sectors of high economic productivity such as agriculture, livestock, fishing, tourism, health, energy, etc. and natural resources such as land, water, fauna and flora (biodiversity).
"Currently representing just 1.8% of world greenhouse gas (GHG) emissions, ECOWAS countries' contribution to global warming is minimal. However, the African continent is at the centre of the climate change challenges of this first half of the 21st century. According to the most alarming scenarios, West Africa will experience, by 2060, a temperature increase of +2.3 °C, or a warming of + 0.6 °C per decade.
"Precipitation will be more erratic and will lead to an increase in the frequency and intensity of the extreme weather conditions already being experienced in our region: floods, increased variability of rainfall, coastal and soil erosion in river basins, extremely long pockets of drought among other corollaries, with dramatic human and economic consequences for all economic sectors and for the most vulnerable sections of the population, particularly, women, young people and the elderly."
In Nigeria, technical officers from the Federal Ministry of Environment, Federal Ministry of Agriculture & Rural Development, and National Council on Climate Change benefitted from the capacity building workshop.