Fresh hopes have emerged for Nigeria's floundering agricultural sector, thanks to a new initiative being promoted by the Global Environment Facility (GEF) and the United Nations Development Programme (UNDP). It is tagged the "GEF-UNDP Fostering Sustainability and Resilience for Food Security in Nigeria."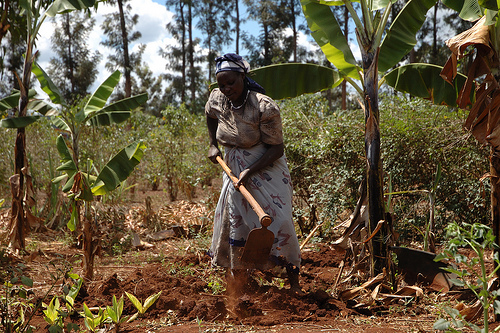 According to project officials, the scheme will contribute to the enhancement of long-term environmental sustainability and resilience of food production systems of the country, for the achievement of improved national food security by:
Strengthening the enabling institutional and policy environment,
Scaling up proven sustainable land and water management (SLWM) gender-responsive best practices for improved productivity, particularly among small-scale family agricultural producers in the face of climate change and climate variability impacts, and
Establishing a climate-resilient and result-oriented food security monitoring system.
At a project initiation workshop held last week in Abuja, participants attempted to perfect and finalise the project elements, preparatory to a full commencement of the programme.
While accounting for about 24% of the nation's GDP and employing roughly 70% of the labour force, agriculture is dominated by about 15 million smallholders (mostly women), who account for over 90% of the national food.
In a presentation titled "Fostering sustainability and food security in Nigeria," Prof Emmanuel Oladipo of the University of Lagos listed the main divers of food security to include: rapidly growing population, changing and uncertain climate, shrinking farming workforce, poor infrastructure, flat crops yields over the past decades, and conflicts in the northern agro-ecological zones (AEZs) where most of the grains are produced.
"These drivers put food security in grave danger, unless the decline in food production is offset by vast increase in country food production and food imports – despite infrastructure, production and market support services constraints," submitted Prof Oladipo.
While identifying possible risks as political, strategic, operational and financial, he listed the project components as:
Enhancing the institutional and policy environment for achieving improved food security
Scaling up gender-sensitive sustainable land and water management (SLWM) initiatives and agrobiodiversity practices that provide local adaptation and global benefits and improve food production
Developing an appropriate methodology for results-oriented monitoring and evaluation (M & E) for food security and establishing a climate and food security monitoring system in project areas
In terms of national relevance, the project is said to be consistent with policies and strategies such as the Vision 20:2020; Economic Transformation Blueprint; Agricultural Transformation Agenda; National Policies on Agriculture, Climate Change and Environment; National Adaptation Strategy and Plan of Action on Climate Change in Nigeria (NASPA-CCN); and National Agricultural Resilience Framework (NARF).
Prof Oladipo's words: "Specific project sites are yet to be determined, but focus will be on the Sudan-Sahelian AEZ, where agro-pastoral millet sorghum and cereal-root crop mixed production systems are practiced."