The Nigeria Hydrological Services Agency (NIHSA) says it will soon install the "Flood Warning Alert'' device on major rivers so as to check flooding across the country.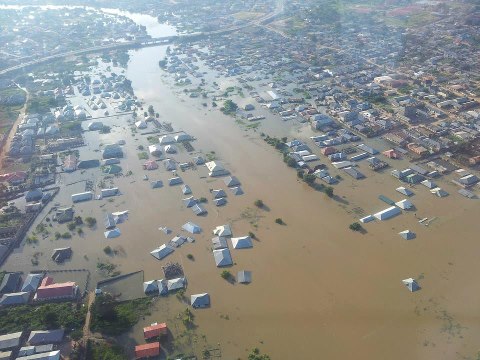 Mr Olayinka Ogunwale, the Acting Director-General of NIHSA, said this on Monday, May 21, 2018in an interview with News Agency of Nigeria (NAN) in Abuja.
He said the device would facilitate efforts to send flood alerts to the people living in flood-prone areas so as to save the people's lives and property.
Ogunwale said that NIHSA had started the installation of the network device system on River Niger at Lokoja in Kogi State, while others would be installed on River Benue and other major rivers across the country.
According to Ogunwale, the installation of the network device systems will particularly boost efforts to detect and check flood incidents in flood-prone areas of the country.
"Just recently, we started with the idea of installing flood alerts and we started with just only one in Lokoja.
"We want to actually start with that project, watch it and see how effective it is going to be; then, we can continue from there.
"We want to actually install the warning device systems on almost all the major rivers, especially those rivers in the flood-prone areas,'' he said.
Ogunwale said that a flood warning device system was a means of detecting threatening flood events in advance, so as to enable the agency to warn the public for quick response to avert flooding or minimise its adverse effects.
The acting director-general said that the rationale behind the acquisition and installation of the device was to reduce the people's exposure to coastal flooding in particular.
Ogunwale expressed the hope that the installation of the systems on major waterways would provide critical information that would facilitate strategies to protect the citizens' lives and property.
He said that the flood warning device was specifically designed to provide the earliest warnings about the occurrence of floods and how severe such flood incidents would be.
NIHSA, during its 2018 Annual Flood Outlook, assured the citizens that the country would not experience heavy floods in 2018, unlike the situation in the previous years.
By Okon Okon