No fewer than 35 communities in Etsako East and Etsako Central Local Government Areas of Edo State have been sacked by flood, occasioned by unending rains and overflow of the River Niger.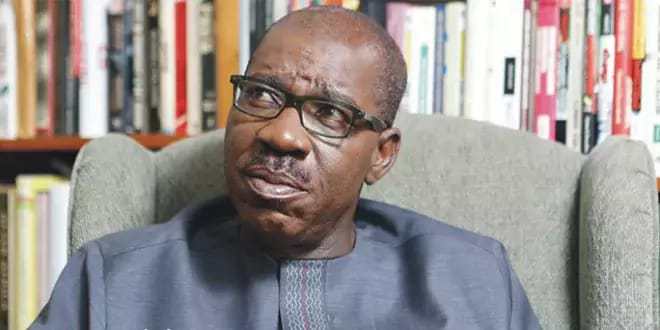 The News Agency of Nigeria (NAN) reports that the flood, which displaced over 30,000 people, also damaged hundreds of hectares of farmland across the two council areas.
NAN reports that mostly affected by the flood are communities such as Udaba, Anegbette, Usomegbe, Uduchiz among others, all in Etsako Central Local Government.
Similarly, the flood also sacked the entire six Uneme clans in South East Uneme, Okpekpe, among others, in Etsako East Council area.
The Etsako East council boss, Mr Aremiyau Momoh, and his counterpart in Etsako Central, Mr John Akhigbe, said the disaster had gone beyond the purview of the council areas.
They called for urgent intervention from both the State and the Federal Governments.
The duo said camps for the Internally Displaced Persons had been placed in strategic locations across the council areas.
Akhigbe said aside the Resettlement Camp built aftermath of a similar disaster in 2012; about five other camps are being prepared for the victims.
Similarly, Momoh said six camps had been opened in Etsako East for the same purpose.
"We have tried our best as far as the councils are concerned, we are hoping and appealing to the Federal Government to urgently intervene on this matter," he said.
In his remarks, the clan Head of Uzanu, South East Uneme in Estako East local government, Benjamin Ikani, also cried out over the sacking of six communities in his domain by flood.
The Monarch said more than 1,700 persons from the six communities are now displaced looking for where to stay.
Ikani listed communities affected by the flood to include Uneme-Ekwuekpele, Uneme-Ogwoyo, Uneme-Ukpeku, Uneme-Ogbethaya, Uneme-Yeluwa and Uneme-Unubu.
He said he relocated some widows, old women and children to Uzanu community to enable the children go to school.
He said the displaced persons had been moved to higher ground at Uneme-Yeluwa waiting for interventions from the state.
Ikani said he has reported the matter to the relevant authorities but was yet to get any help.
He expressed worry over stranded pregnant women that could no longer get access to ante-natal care.
"The flood started last week. You can see the women and children in my palace. Nobody died in the flood, but my people need help.
"The most pathetic situation is the pregnant women because of lack of health care, food stuff, medicine. The people can no longer harvest their crops.
"I brought 18 persons because all of them have left their villages to stay at Uneme-Yeluwa."