Boosting energy efficiency is a key part of climate action, but it also brings significant co-benefits. That was a clear message from the discussions at the UNFCCC Technology Executive Committee's thematic dialogue on industrial energy efficiency, held during its 14th meeting in Bonn, Germany.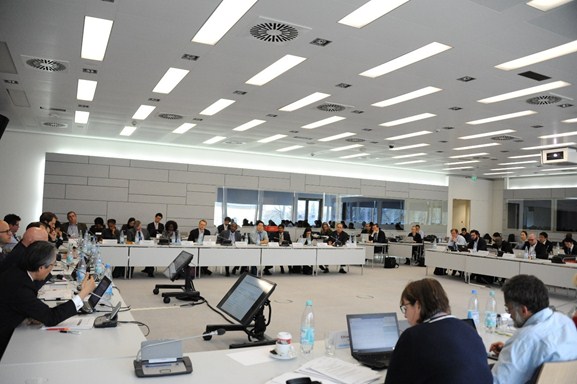 At the dialogue, experts from around the world discussed how to boost and scale up industrial energy efficiency in developing countries.
Benoit Lebot, from the International Partnership for Energy Efficiency Cooperation (IPEEC), noted that large "reduction potential is given by energy efficiency." According to a recent IEA study, energy efficiency and renewable technologies have equivalent greenhouse gas reduction potential.
"The beauty of energy efficiency is that it comes with multiple benefits. A first benefit is to lower the invoice, the bills, and energy efficiency to a great extent it is cost-effective. You invest 1 and you get your 1 back in 2-3 years. And if the investment lasts for 15 years you make money," Lebot explained.
But the list of energy efficiency benefits is long. Eric Masanet, from the International Energy Agency (IEA), said that improved energy efficiency can deliver multiple benefits across the industry value chain, leading to enhanced competitiveness, more cost-efficient production, and reduced operation and maintenance costs. It can also lower the costs of environmental compliance and improve the working environment for employees.
Similarly, Mikael Henzler from Adelphi Consult highlighted that energy efficiency in industries is essential to meet the Sustainable Development Goals (SDGs). He said the achievement of at least eight of the 17 SDGs can be supported by increasing energy efficiency (in industries) and material substitution. Also during the thematic dialogue, participants considered practical solutions implemented in countries such as China, Japan, South Africa, and the regions of Eastern Europe and Central Asia.
The event showcased successful projects that are taking place in different countries, as examples that can be replicated and scaled up:
In Japan, the steel-making sector has become one of the most energy efficiency industries in the country. The industry achieved this by implementing energy saving measures and improving productivity. The industry also transformed itself to become an attractive supplier for manufacturing sectors in Japan by producing 'eco products' which allowed their customers to improve their environmental performance. For example, it began to produce high performance steel which allowed automobile companies to reduce their fuel consumption. It also began to manufacture high grade electric steel which supported power utilities to improve energy efficiency in transmission lines.
In South Africa, the national government implemented a project which motivated large, medium and small enterprises to increase industrial energy efficiency through tax incentives. In the country this industry consumed a significant amount of energy but lacked capacity to undertake energy efficiency measures. Through the project, the government trained 3,200 engineers and managers as lead auditors of energy efficiency, developing local capacity for undertaking this task.
The thematic dialogue on industrial energy efficiency was part of the TEC's 14th meeting. The TEC met from March 28 to 31 at the UNFCCC headquarters in Bonn, to take stock of its ongoing work on different workstreams related to technology policies.
Specifically, the TEC considered work on: adaptation technologies; climate technology financing; emerging and cross-cutting issues; innovation; mitigation technologies; south-south cooperation on climate technologies; and technology needs assessments.
Also, the TEC identified how to strategically guide its work to ensure that it responds to country needs and delivers impactful policy recommendations to COP 23.