Africa's top environmental journalists were honoured on Thursday, October 11, 2018 at a glitzy ceremony at the Seventh Climate Change and Development in Africa (CCDA-VII) conference that ended on Friday, October 12 in Nairobi, Kenya.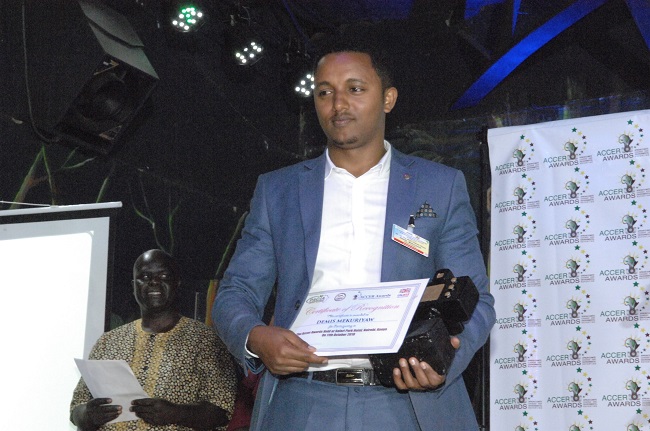 The overall winner of the African Climate Change and Environmental Reporting (ACCER) Awards was Ethiopian Demis Mekuriyaw, who was praised by the judges for outstanding coverage of environmental issues in his country.
"Mekuriyaw is a highly organised and efficient journalist, whose thorough and precise approach to projects has yielded excellent results. He went out of his way on a shoe-string budget to report on climate change and environmental issues affecting his country," the judges said.
He works for etv Broadcasting Corporation.
"I'm elated to be honoured for simply doing my job. I really am grateful, and I pledge to continue to do my best in investigating and reporting environmental challenges in my country and elsewhere," said Mekuriyaw.
The ACCER awards are meant to encourage journalists on the continent and their media houses to cover the environment issues.
Guest of honour, Kenya's Environment and Forestry Chief Administrative Secretary, Muhamed Elmi, said climate and environmental issues were too important to be left to politicians alone.
"I will continue to say it again and again that climate change will deal with us if we do not deal with it," he said. "This is where our journalists come in. We also need to put in place incentives for media houses to support their journalists who cover the environment otherwise the journalists will do their work, but their newsrooms will not publish. This subject is too important to be left to governments and politicians alone."
Mithika Mwenda, Secretary General of the PanAfrican Climate Justice Alliance (PACJA), which organised the awards and CCDA-VII in partnership with the Economic Commission for Africa (ECA) and the Kenyan government, said PACJA was happy with the response of environmental journalists from across the continent though more still needed to be done.
"We have seen over the years that environment and climate change issues are relegated in terms of news with politics taking centre stage. In this world with multiple problems competing for attention, climate change and environmental destruction, the root causes of global problems hardly receive priority, so we hope the awards will make a difference. We are seeing the difference," he said.
James Murombedzi, Officer in Charge of the Economic Commission for Africa's African Climate Policy Center (ACPC), challenged the environmental journalists to write their stories in local African languages for maximum impact.
"There are many words that are used that we do not even have in our languages on the continent and the challenge is upon you as journalists to coin the words and the language that our people can understand in the discourse aimed at forging a collective effort to curtail climate change, reduce poverty and ensure sustainable and equitable development is attained on the continent," he said.
Representatives from the African Union Commission and the African Development Bank also spoke and pledged to support the continent's environmental journalists to increase their capacity, understanding of science and related issues, working with the ECA, PACJA and other partners.
PACJA hosted a three-day training workshop for Africa's environmental and climate journalists ahead of CCDA-VII in a bid to build their capacity on climate and environmental issues; to build a critical mass of African journalists with a special focus on climate and the environment; to simplify and demystify the jargon used; and create a platform where journalists and other stakeholders can interact.
Victor Bwire, Wanjohi Kabukuru and Michael Simire were trainers at the workshop.