A massive landslide hit Bududa district in Uganda again on Thursday, October 11, 2018 following a heavy downpour and hundreds of people are feared dead.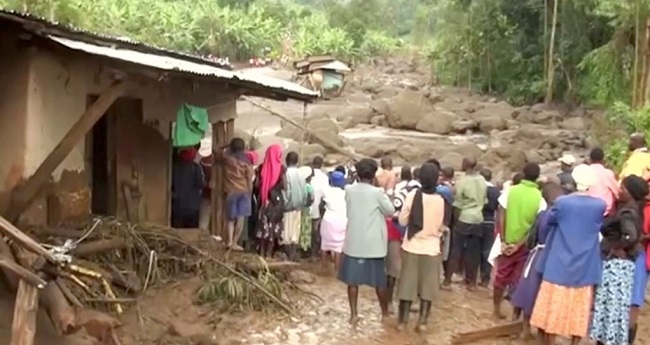 Although 40 bodies had been recovered, by press time, hundreds are feared dead because some areas were still inaccessible.
According to preliminary information, two market centres on the slopes of Mt. Elgon and two schools were completely decimated when River Tsuume in Bukalasi sub-country in the landslide-prone district burst its banks, carrying whatever if found in its way into River Manafwa.
There were also reports that a big number of pupils and their teachers could have been killed in the massive landslide.
"A river burst its banks in Bududa following a heavy downpour and caused a landslide up the mountain.  It rolled big boulders through a village in Bukalasi sub-county, killing several people," Martin Owor, the commissioner for disaster management in the Office of the Prime Minister (OPM), said.
"Several people are injured and many displaced. A detailed report will be issued after the on-going assessment, "Owor added.
Last evening, Bududa district chairperson Wilson Watira said 40 dead bodies had been recovered so far.
He said recovery efforts had been restricted due limited accessibility and navigation in the area as the river carried away all bridges linking the remote villages to the rest of the district, creating a huge sludge rift separating either side.
"Disaster alert! Massive landslide occurrence in Bukalasi sub-county, Bududa district. It has just happened 50 minutes ago," the Uganda Red Cross public relations officer, Irene Nakasita, said.
The preliminary report indicates that the number is likely to increase. The situation is tense as community members are scared and fleeing their homes for safety.
In the meantime, the whole district is still experiencing heavy downpour and we are expecting more of the same in other landslide-prone areas," she added.
Nakasita said the situation had been complicated by the fact that the affected area was not accessible.
"It was still raining heavily, and the ground is soggy; you cannot just dare it – you can equally just get buried," she said, adding that the Red Cross response action team from Mbale was heading to the area.
The incident took place during the mid-day downpour and most of the victims were those who were operating in the two trading centres of Nalutungu and Anchenor.
According to reports, other people affected were those whose homes were in the vicinity of the river banks or those whom floods found on the roads.
Reports say there were heavy rains in the Mt. Elgon National Park that had triggered heavy flooding and mudslides that gained momentum, carrying trees and rocks as they rolled down the mountain slopes.
Survivors talked of hearing a rumbling sound and tremors followed by flying rocks. Hundreds of acres of crops that include bananas, cassava, beans, coffee and other crops were also destroyed.
The rains have also caused River Manafwa to burst its banks, causing more flooding.  The disaster occurred just a few kilomenters from the 2010 disaster in Nametsi village, where over 30 homesteads were buried and over 150 lives lost.
Similar disasters are common in this area, but residents have made a slow response to the Government efforts to relocate them from the mountainous areas.
According to several studies carried out, Mt. Elgon region has the highest rate of landslides and floods in Uganda.
The recent wave of landslides is attributed to multiple factors such as climatic changes, for example El-Nino rains, deforestation, deeply weathered soils underlain by tertiary and pleistocene volcanic rocks, steep topography and human activities such as cultivation.
Experts argue that human activities, such as poor logging practices and overplanting on steep slopes, accelerate landslide occurrence.
Recent Bududa Landslides
March 2010: Landslides killed about 150 people and displaced over 10,000, in Nametsi sub-county, Bududa district.
March 2011: A landslide swept the slopes of Mt. Elgon, razing three villages in Bududa district (Kubehwo, Namangasa and Nametsi) located in Bukalasi sub-county. Ninety-two bodies out of the 365 people were recovered and only 31 survivors were rescued from the three affected villages.
June 2012: Landslides occurred at Bunakasala parish, Bududa district, sweeping through four villages after a heavy downpour in the area for two days. At least nine were injured and 15 houses were buried.
August 2013: A four-year-old child, John Mangoye, the son of Stephen Waninga, a resident of Matuwa parish, was killed after a hailstorm ravaged several villages causing multiple mudslides and floods in Bushiyi sub-county in Bududa district. At least 17 other injured persons were admitted to Bududa Hospital, while an un specified number mostly children, the elderly and disabled were unaccounted for and feared dead.
By Hope Mafaranga