Sub-Saharan Africa will need to create an average of 15-20 million new jobs per year over the next three decades to meet the current growth
General Electric (GE) on Thursday in Nairobi, Kenya announced a series of new commitments aimed at addressing some of the most critical health challenges in East Africa through a sustained focus on skills development and capacity building. The disclosure comes ahead of the Global Entrepreneurship Summit in Nairobi.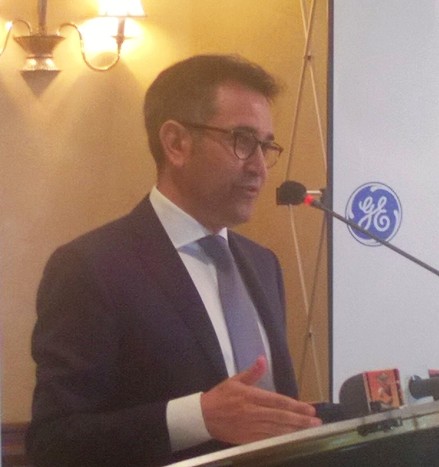 Among the investments, GE announced: 1. The establishment of the GE Healthcare Skills and Training Institute in Kenya, GE's first-ever dedicated healthcare skills advancement centre in Africa; and 2. A $1.7 million GE Foundation grant for Biomedical Equipment Training and Safe Surgery programmes in Ethiopia.
As outlined in the GE Africa Future of Work White Paper, launched on Thursday, entitled, Building Strong Workforces to Power Africa's Growth, sub-Saharan Africa will need to create an average of 15-20 million new jobs per year over the next three decades to meet the current growth, presenting a considerable challenge to the labour market given the low rates of formal employment.
Moreover, the global health sector, especially in developing markets, is facing critical workforce shortages, with Africa ranking the lowest in the availability of health personnel. With 12% of the world's population and 25% of the world's burden of diseases, sub-Saharan Africa has only 3% of the world's health workforce. According to the White Paper, the African urbanisation story underscores the need for governments and their partners to invest aggressively in enhancing skills.
Farid Fezoua, President & CEO of GE Healthcare Africa, said, "Investing in the training and education of healthcare professionals to strengthen capability building is one of the greatest enablers for sustainable healthcare development. GE Healthcare's education strategy integrates technology and localisation in the design and deployment of tailored education solutions including the establishment of new healthcare training centers, locally configured curricula and a range of education partnerships with leading regional academic institutions and global partners. As a major force for change, we aim to increase access to localised education, training and skills development programmes for more healthcare workers across Africa."
GE Healthcare Skills and Training Institute, Kenya
Selected in February 2015 as a key technology and solutions partner by the Kenyan Ministry of Health (MoH) as part of its $420 million healthcare transformation plan, GE is committed to supporting knowledge-sharing and capacity building in Kenya and across East Africa. As a cornerstone of the mega-modernisation programme, GE will launch the new GE Healthcare Skills and Training Institute in Kenya, representing a long-term investment of at least $13 million over the next 10 years.
With specialised GE Healthcare training facilities across the globe, the centre is set to become GE's first dedicated skills development facility in Africa when inaugurated in Nairobi later in Q4 2015 that will serve Kenya and the wider East Africa.
The GE Healthcare Skills and Training Institute will initially offer biomedical and clinical applications training courses and over the longer-term will be expanded to offer leadership, technical and clinical education courses, working with the MoH, private healthcare providers and other educational partners, with the goal to train over 1,000 healthcare professionals over the next three years.
In East Africa, where there is a significant shortage of qualified healthcare professionals, the localisation of vocational and leadership training courses aims to support the development of a pipeline of future biomedical engineers, radiologists and technicians, helping to reduce the skills gap, improve job prospects and build a solid national healthcare system and private healthcare sector.
The Kenya training centre is part of GE Healthcare's global commitment to invest over $1 billion in the development and delivery of localised offerings for the healthcare sector, including a new class of technology-enabled training solutions by 2020. Moreover, as part of this commitment, GE Healthcare aims to deliver enhanced training for over two million health professionals globally that is expected to help healthcare systems drive better patient outcomes and benefit more than 350 million patients worldwide by 2020.
Ethiopia Biomedical Equipment Training (BMET) Centre of Excellence
GE Foundation's first Biomedical Equipment Training (BMET) programme in Ethiopia responds to the shortage of skilled healthcare workers and functional medical equipment. The BMET Centre of Excellence (COE) builds on the success of prior BMET programming in Ghana, Nigeria, Rwanda, Honduras and Cambodia and expands the commitment by creating a COE within a hospital setting to translate learning to actual work processes.
The COE "workshop" will set a benchmark for hands-on training and process replication, further strengthening healthcare systems. Training participants will benefit from a well-rounded curriculum including professional management and customer service skills, in-hospital clinical application, asset management and financial reporting skills and professional development.
This three-year programme grant will help fund the development of the training to educate biomedical technicians in Ethiopia to respond to the shortage of functional medical equipment, by focusing on repairing – not replacing – equipment using available resources. Programmes such as these can help local hospitals increase availability of medical equipment – such as incubators for infants – by up to 43% in some cases.
Safe Surgery Programme in Ethiopia
With a significant training component, the GE Foundation commitment to improving safe surgery in Ethiopia will be delivered through a new partnership with Lifebox, a non-governmental organisation focused on implementation of the WHO Safe Surgical Checklist. This programme aims to standardise safe surgery by increasing access to and quality of surgery, reducing surgical complications, and preventing patient deaths in the region.
In collaboration with the Ministry of Health, the programme will help develop a surgical operating standards programme to serve as a pilot for a country-wide intervention, with local champions from surgical, anesthesia, and nursing backgrounds serving as programme leaders. The programme will also provide guidance, and help coordinate the implementation of safe surgical standards with a focus on localisation. The ultimate goal of the partnership is to expand country-wide through collaboration with local partners including ministries, NGOs, professional societies, teaching institutions, and peer-to-peer networks.
"Safe Surgery has long been a neglected area of global health, and universal access to an essential set of surgical procedures would prevent 1.5 million deaths around the world every year," said Dr. David Barash, Executive Director, Global Health Portfolio, and Chief Medical Officer, GE Foundation. "It's tragic that millions of people are dying from common, easily treated conditions like appendicitis, fractures or obstructed labor because they do not have access to proper surgical care. We are especially pleased to launch this partnership focused on access to safe surgery with Lifebox, given their success implementing the WHO Surgical Safety Checklist, leading to a nearly 60% reduction in the total number of perioperative complications in low-resource settings."
This programme grant will be delivered over 18 months, focusing on a Centre of Excellence for health worker training, leadership development, improvement in Safe Surgery Standards compliance, and create guidelines for measuring surgical site infections, postoperative mortality, and other complications.
Earlier this year, the GE Foundation participated in the launch of a major new Commission on safe surgery published in The Lancet. The Commission notes that five billion people worldwide do not have access to safe and affordable surgery and anesthesia when they need it, and access is worst in low- and lower-middle income countries, where as many as nine out of ten people cannot access basic surgical care. The GE Foundation Biomedical Equipment Technician (BMET) training programme was highlighted in the Commission as a "best in class" model for sustainable training.