Preliminary results from experimental plots carried out by researchers working under the International Institute of Tropical Agriculture (IITA) led Cassava Weed Management Project show that by switching to improved weed management practices, Nigerian cassava farmers can double current national average yield of 12-13 tons per hectare.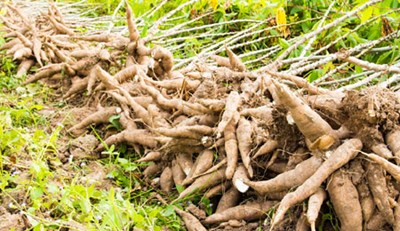 The current national average yield of cassava puts the yield per stand of cassava plant at 1.2-1.3 kg.
However, recent harvest from trial plots recorded a breakthrough as a single cassava stand at Igbariam in Anambra State produced 34 kilograms roots.
"Elsewhere our preliminary results show that average national yield of 20-39 tons per hectare is achievable if farmers can simply adopt and use improved weed management practices," said Dr Alfred Dixon, Project Leader for the Cassava Weed Management Project.
"The results we are seeing in the field reinforce the fact that weeds are a major factor limiting yield and eliminating them (weeds) from cassava can help African farmers benefit more from the investments in research," he added.
Researchers estimate that in uncontrolled fields, weeds wreak havoc on cassava pulling down about 80 per cent of cassava yield. Women farmers who bear the brunt of keeping cassava farms weed free in most cases end up with backaches.
Dr Adeyemi Olojede, who is the Coordinator from the National Root Crops Research Institute (NRCRI) Umudike, described the results as "great."
"Nothing special was done to the cassava fields. All we did was to ensure the fields were without weeds," he said.
Though weed control is a major bottleneck to cassava production, it has never gained desired attention as compared to pest and diseases of livestock.
Prof Friday Ekeleme, Principal Investigator, Cassava Weed Management Project observed that weed control in cassava is a major constraint to productivity because the crop is left for a long time in the field usually 9-12 months before harvest. Farmers therefore have no other choice than to control weeds over this long period of time to keep the farms free of weeds.
"Also the spacing of cassava usually 1 meter by 1 meter leaves enough space for weeds to grow and compete with cassava for nutrients, water and light," he said.
The results of the harvest from the first year experiment have revved up excitement among the Project team members with strong indications that some of the technologies would be transferred to farmers next year.
"These results are promising. Similar experiments are being conducted this year for validity. Definitely we will be in the field next year working with our partners (the Agricultural Development Programs) to extend the knowledge on improved weed management," said Godwin Atser, Communication & Knowledge Exchange Expert for the Cassava Weed Management Project.