Chairman, Osun State Chapter of Cocoa Farmers Association of Nigeria (CFAN), Mr Moses Oladipupo, has decried the poor production of cocoa in the state, attributing it to bad weather.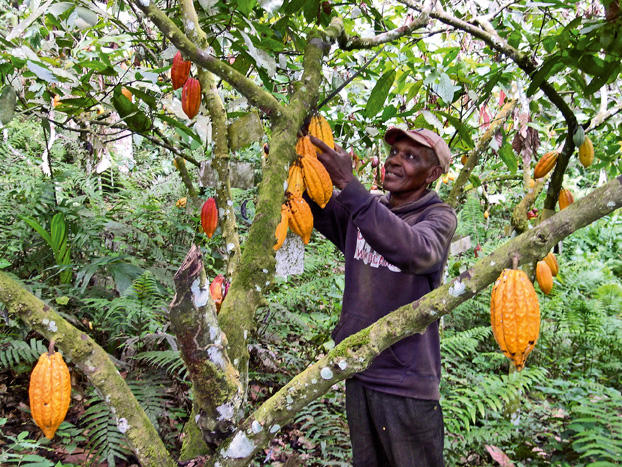 Oladipupo, during an interview with the News Agency of Nigeria (NAN) in Osogbo on Saturday, December 30, 2017 said only 30 per cent of expected cocoa production was achieved by farmers in the state in 2017.
He attributed the major factor responsible for the low production to inadequate support from government in 2017, adding that farmers had to struggle on their own.
"We faced the challenges of unfavourable weather, fake chemicals sold in the market, and lack of fund and financial support from the government.
"Majority of our farmers lack funds and as such could not pay labourers employed to work on their farms, and this often resulted to police cases.
"In fact, we had a lot of our members arrested because they were reported to the police for not paying the labourers they employed.
"It is not entirely the fault of farmers not being able to pay their employed labour, but what they get from their harvest is not up to what they have invested on production." he said
He said though the Federal Government through the Federal Ministry of Agriculture, had been providing chemicals to cocoa farmers at 50 per cent subsidised rate, the farmers still need more support and assistance from them.
He said farmers in the state were not really feeling the Federal Government's impact on agricultural programmes and policies because the states governments that were supposed to be implementing them were not doing so.
He said the target of government in terms of cocoa production was 300,000 metric tons, but said they would get less than 200,000 metric tons this year due to the challenges farmers faced this year.
He, however, called for more commitment from the government toward cocoa production and to equip farmers through training, funding as well as provide extension workers to assist and monitor farmers operations.
According to him, if government can provide the needed tools and materials cocoa farmers need to operate, it will encourage farmers' production and cultivation of cocoa on a large scale.
By Olajide Idowu