Some civil society organisations (CSOs) have called on farmers in rural areas to embrace climate-smart agriculture (CSA) as part of efforts to mitigate the impact of climate change in Nigeria.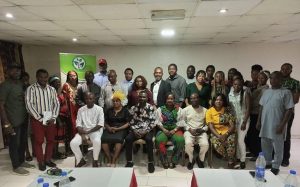 The CSOs made the call in Calabar, the Cross River State capital, on Thursday, June 8, 2023, at a capacity-strengthening workshop for non-state actors at the grassroots level.
The workshop had the theme: "Translating climate change adaptation (CCA) and smart agriculture to farmers in Cross River."
The workshop was sponsored by the Climate and Sustainability Development Network of Nigeria (CSDevNet), Pan African Justice Alliance (PACJA), and African Activists for Climate Justice (AACJ).
The CSOs, which advocated a sustainable way of agricultural practice, noted that the present system of agriculture was a contributing factor to climate change.
They noted that sustainable smart agriculture would help to prevent food insecurity, deforestation and natural disaster due to climate change.
Mr Steve Abu, National Network Coordinator, CSDevNet, who spoke on "Translating climate change adaptation and smart agriculture to farmers," said that millions of Nigerians were currently at risk of natural disasters.
He pointed out that the most obvious effects of climate change included drought, flooding, sea level rise, decrease in crop yield, food insecurity, erosion and an increase in poverty.
He said that this would lead to an increase in productivity, enhance resilience and also reduce emissions.
"This training is aimed at equipping non-state actors to translate climate change adaptation and smart agriculture.
"It is also meant to accelerate agricultural practice adaptation in Nigeria and equipping non-state actors with the knowledge and technical know-how on smart agricultural practices and effective communication to rural farmers," he stated.
Mr Steven Njar, a community facilitator, explained that the present system of agricultural practice was no longer sustainable as it had impacted negatively on the forest.
Njar spoke on the topic: "Update from forest dependent communities on state of the forest reserves and the impact of climate change."
He called on communities to assume ownership of their forests.
He further called for the practice and distribution of improved and climate resilient seedlings that could withstand drought.
Similarly, Prof. Emmy Idegu of the Communicating Development Initiative called for the effective use and deployment of communication to educate and sensitise rural farmers to the issue of climate change and smart agriculture.
According to him, "We must fashion out effective communication channels to reach rural farmers on the issue of climate change."
By Ehigimetor Igbaugba