The National Environmental Standards and Regulations Enforcement Agency (NESREA) has urged residents of Gombe State to adopt flood mitigation measures to forestall the disaster.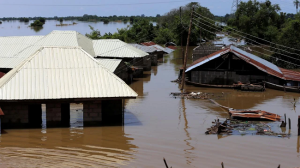 The Director of the agency in charge of the North-East zone,  Mr Charles Sharah, made the call in an interview on Friday, June 9, 2023, in Gombe, the state capital.
He said the call became imperative in view of the need to ensure that drains were not blocked during the wet season.
Sharah said that since flooding could be caused by human factors, it was necessary for such measures to be taken towards mitigating the impact of flooding in the communities.
"Since flooding had become almost a yearly event, communities ought to take proactive measures to support effort of the government in controlling it.
"Residents of Gombe State must refrain from dumping of refuse in drains and waterways so as to avert flooding
"This will enable the large volume of water that comes from various sources to pass through the channel without any obstruction.
"Gombe State Government has done well in constructing roads and drains, these are not for waste disposal, so residents must allow water have its way to appropriate channels," he said.
Sharah said that proper waste disposal such as pet waste and polythene bags would mitigate flooding, adding that when disposed improperly, they could become a significant source of environmental hazard.
He also advised those living in flood prone areas to relocate until after the rains as a measure to reduce loss of lives to flooding.
"If you know you built your house on water ways kindly vacate those areas to save lives and property."
The zonal director said the attitude of some residents in not complying to the rules and regulations was part of the reasons that Gombe and other states record huge losses to flooding.
According to Sharah, the agency is sensitising the people, and will continue to do so until everyone play their parts towards the protection of the environment.
By Peter Uwumarogie