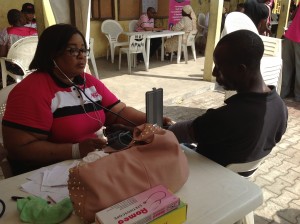 It was a banquet of free healthcare services as the Women Arise Initiative, an arm of the Redeemed Christian Church Of God's City of David Parish, berthed at Apapa in Lagos.
The Women Arise Medical Team patrolled the streets of Apapa in an ambulance announcing to residents to come out and access basic healthcare services at no cost.
Among the healthcare services offered to the residents were malaria, typhoid, blood-sugar tests, blood pressure and dental check, health talk, counseling and drug administration.
Convener of the Women Arise Initiative, Pastor Mrs. Siju Iluyomade explained that the project was borne out of the need to care about the physical and medical wellbeing of women, while lending a voice to issues related to women.
According to her, any nation that lifts up the womanhood would be lifted up in return. Women Arise had previously been to parts of Lagos like Makoko, Lagos Island, Surulere and Ebute-Metta. The group intends to reach out to other parts of the state.
Pastor Iluyomade said the Women Arise Initiative supports the "Bring Back our Girls Initiative" which, according to her, brings to mind the need for the government to ensure every Nigerian is well taken care of. She expressed concerned over the need for healthcare services to be available and accessible to all and sundry.
"Apapa has a diversified mix of different ethnic groups and as we can see all are united in the need to access healthcare services. This shows that there are many things that can unify us as a nation. The impact of our outreach in places we have visited is heartwarming seeing the smiles and satisfaction in the faces of the people and the comfort that they feel, knowing someone is concerned about their health pushes us to do more," she added.
Head of the Medical Team, Dr. Ademola Lafenwa, pointed out that the high level of ignorance among the people has resulted in some cases where participants don't even know the status of their health and they have serious health issues.
"Today, one of the person I attended to has a very high blood sugar level and is also hypertensive. He is not even aware of any of these conditions. People don't know they can approach the nearest health centre within their vicinity for medical care. They think health centres are meant for only babies and immunisation exercises. They also believe that if they visit hospitals, they will be charged heavily for services delivered and conclude that hospitals are designed for the rich only.
The Lagos State Government has ensured that every Primary Health Centre is assigned with a medical doctor, but the level of awareness among the people to use these health centres is low. This is worrisome," Lafenwa stated.
The turnout was massive as residents thanked the Women Arise Medical Team for offering free healthcare services that would ordinarily have cost them money to access.
By Tina Armstrong-Ogbonna