An environmentalist, Dr Bolanle Wahab, says responsible behaviour in all spheres of life would increase the resilience of Lagos to flood disaster risk.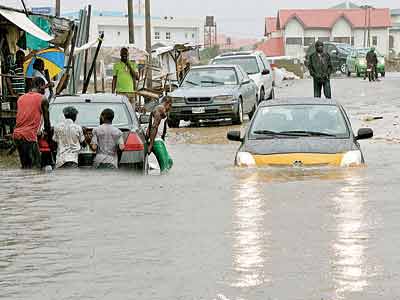 Wahab, of the Department of Urban and Regional Planning, University of Ibadan, said this recently in Lagos during a City Resilience Workshop.
The workshop, themed: "Local Governments and Communities working for a Climate Resilient Lagos", was organised by the Coastal Cities at Risk (CCaR-Lagos).
The CCaR is a five-year programme under the International Research Initiative on Adaptation to Climate Change (IRIACC).
The research project seeks to strengthen the capacity of four coastal megacities namely Lagos, Bangkok, Manila and Vancouver to effectively respond to climate change and its impacts.
The CCaR-Lagos is led by University of Ibadan, in Oyo State.
Wahab said that building the resilience of Lagos to flooding begins at the local government level.
According to him, recognition that risks and vulnerabilities for the various aspects of climate change in cities are shaped by local contexts and influenced by the actions and inactions of local communities.
He noted that communities are key actors in building climate resilience based on their invaluable source of knowledge embedded in unique social, cultural, economic, political and physical realities.
The expert noted that public and private agencies, community development associations must be in the vanguard and act as watchdog in their respective localities to checkmate unlawful actions.
"All of us must appreciate that we are stakeholders, we are contributors to flooding incidence in Lagos because solid waste is a driver of flood.
"If we all engage in responsible waste management at household level by reuse and reducing the amount of waste generated and conversion of waste to gas, there will be less waste for the government to carry and the drains will be healthier.
"I do not usually buy fresh plastic bag whenever I go to the market to buy anything, I take the ones I have at home, if more people do this our environment will be better.
"The city will be resilient and healthier, not many houses will be flooded or collapse again and the livelihood of the people will be protected and secured.
"Our drains will be empty and storm water will be able to flow freely but when we continue to choke the canal and drains with solid waste there will be flooding because rain will always fall," Wahab said.
According to the expert, responsible behaviour in urban planning and development; and in building sustainable infrastructures is crucial to resilient building in the state.
"If we must build bridges and culvert, they must be built to standard, built in anticipation of development that will take place in the next ten years and the amount of groundwater that will pass through.
"We must learn to landscape. Most people do hard landscaping; they concrete the entire square metre of their compound, they do not plant grasses and percolation is inhibited.
"When we do this we are not creating a resilient community. We continue to be more vulnerable, exposed and we will keep having problems with flood.
"Agreed, Lagos is a low-lying coastal state, and because of that we should not continue to exacerbate the situation by clogging the drain and erecting illegal structures," he said.
He urged residents to imbibe the culture of rain harvesting and conversion of collected rainwater to domestic use, thereby reducing the volume of water fetched from well and borehole.
Dr Ibidun Adelekan, lead researcher of CCaR, said that identifying and understanding the vulnerabilities of various communities would assist in addressing flood issues in the state.
She said that resilience could only be achieved through cumulative contribution of multiple interventions and actions overtime, ability of individuals and institutions to internalise learning and experience to inform future behaviour.
Dr Mayowa Fasona, Department of Geography, University of Lagos, said that government should collaborate with the private sector in strengthening knowledge of climate change adaptation and disaster risk reduction for sustainable socio-economic development.
"Flooding will always occur in Lagos because of its coastal nature. As human, we have no power over nature but we can change our attitude to reduce our exposure and vulnerabilities to its shocks and fast track our recovery systems," Fasona said.
By Funke Ishola