The British Deputy High Commissioner to Nigeria, Mr Ben Llewellyn-Jones, has urged the media in Nigeria to do more in their reportage and advocacy for climate action.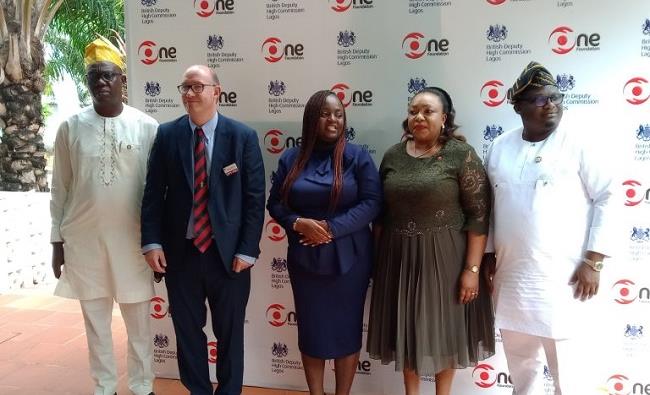 Llewellyn-Jones stated this while delivering a keynote speech at a Dialogue with Climate Actors and the Media on Thursday, October 13, 2022, in Lagos.
The dialogue was in commemoration of the International Day for Climate Action, with the theme: "The Transition to a Circular Economy- Partnerships to Solve Pressing Challenges."
Llewellyn-Jones expressed delight to sensisitise media gatekeepers, editors and reporters on the critical relevance of climate action at this time.
He described climate change as a common concern for all countries, adding that it was an urgent and potentially irreversible threat.
"We are at a critical moment for the future of our planet. Temperatures are rising, storms are raging and crops are failing across the world.
"Considering the impact of climate change and of course COVID-19, building back a fairer, greener and more resilient recovery and safer economy should be a big priority of all governments and gatekeepers across the globe, including the United Kingdom and Nigeria.
"It is very crucial that we, as stakeholders, educate the media on the importance of generating compelling stories and reports that has the potential to galvanise people's action for sustainable development in Nigeria," Llewellyn-Jones said.
The Diplomat said that Nigeria contributes one per cent of global greenhouse gas emissions.
According to him, the country is among the top 10 of the world's most climate vulnerable countries.
He said that coastal states face extensive risks from storm surges, with inland flooding and pollution prevalent in the Niger Delta region; gully erosion in the southeast, and chronic aridity and riverine flooding in the North.
He said that the middle belt is at risk to aridity, compounded by high-tensions between farmers and pastoralists (land rights, water access).
He listed agriculture, water and the health sectors as key sectors impacted by climate change in Nigeria.
"70 per cent of the populations rely on climate-dependent resources. Just about 55 per cent of the 200m plus population have access to electricity.
"Fuel wood and charcoal are the major sources of energy for the rural population," Llewellyn-Jones said.
He noted that the deforestation rate in the country was over 3.7 per cent per annum.
He said that, from 2013 to 2020, 99 per cent of tree cover loss in Nigeria occurred within natural forest.
"Urbanisation rate is about 4.3 per cent per annum, with over 52 per cent of the population currently living in urban centres.
"With Nigeria's population set to double to 400 million by 2050, without action to mitigate and adapt to the impacts of climate change in Nigeria, there will be increased pressure on natural resources (resulting in conflicts) and emissions profile.
"As well as climate impacts such as flooding which in 2022 has impacted 31 of 36 states, affecting over 1.4m people, displacing 808,000, and leaving over 300 dead.
"The impact of climate change without action could cost between six per cent and 30 per cent of Nigeria's GDP by 2050.
"COP26 which the UK hosted in Glasgow in November 2021 concluded with 197 Parties agreeing the Glasgow Climate Pact, reaching consensus on the need for urgent climate action," Llewellyn-Jones said.
He said that the text of the Pact saw Parties address the issues important to African countries, including strengthening international cooperation on adaptation and loss and damage and urging developed countries to at least double adaptation finance by 2025.
"Our COP Presidency will end in November 2022.
"Our objective in 2022 was to maintain the momentum that parties built at COP26, and use this to support success in other key fora – including the 15th Conference of Parties to the Convention on Biological Diversity or CBD COP15 which will hold in December 2022 in Canada.
"We have been working closely with the incoming-Presidency of COP27, Egypt, to build a partnership that aligns priorities and plans, secures the legacy of the Glasgow Climate Pact and delivers impact and progress on the Paris Agreement goals in Sharm el-Sheikh at COP27," Llewellyn-Jones said.
He said that the global context has changed but the goals are ever more urgent.
According to him, Russia's invasion of Ukraine has thrown into stark relief the link between climate change, energy security and the vulnerability caused by our reliance on fossil fuels (and volatile markets).
He said that there was the need to urgently work together to accelerate the shift to clean power generation, including increased solar, wind deployment and greater energy efficiency, which are the most effective route to climate and energy security, and long-term prosperity.
"The media must also take up its responsibility as gatekeepers and the fourth estate of the realm to advocate for and educate every Nigerian on the importance of climate action," Llewellyn-Jones said.
By Fabian Ekeruche