For the last two months, the Bantu and Bagyeli communities of Bella have watched as workers from a forestry company have entered their territory and started razing their forest lands. Removal of logs has damaged their crops, and has come so close to houses as to put them at risk of damage from the felling.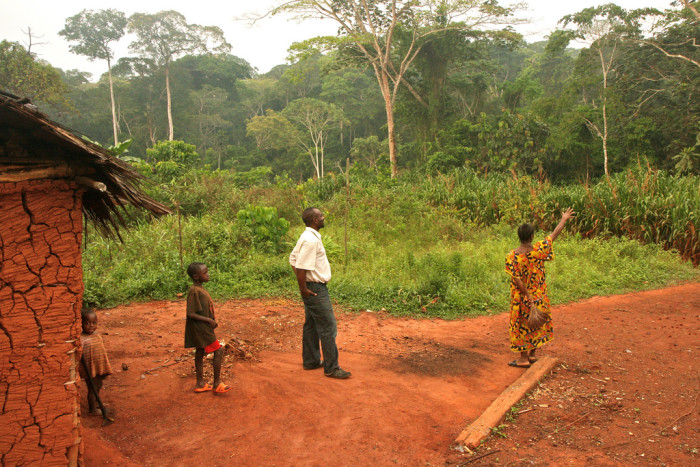 Government officials, who informed community chiefs about the activities (which are also due to follow in the neighbouring villages of Nkollo, Gwap and Moungué), have asserted that the felling is legal, although none of the usual procedures appear to have been followed, and no documentation of the exploitation licence has been provided to the communities. To date, requests for further, concrete information about the alleged licences remain unfulfilled.
The timing of the deforestation activities is highly suspicious. In March 2015, a three year provisional concession granted over the customary lands of all four villages to Biopalm Energy Ltd – a Malaysian palm oil company owned by RSPO member Geoff Palm Ltd – expired, without the company having commenced work. It appears no further concession was granted at the time (a concession must be granted by decree, and none has been published) – but rumours are that the company is in negotiations with the government. Despite sending the company a letter asking for it to clarify its intentions in December 2014, the communities are still unaware of what, if any, proposals are on the table.
Forest-based communities in Cameroon have limited or no recognition of their customary land rights under Cameroon law. Despite that, the communities – who were not consulted over and, on the whole, opposed the original concession – are resisting the return of the company. The (un)timely entry of the forestry companies – who are removing timber at an astonishing rate – is likely to dispirit the communities and weaken their resolve, something which is no doubt not lost on the authorities. However, in a recent field visit, FPP also heard rumours that, in Biopalm's absence, other large companies already operating in the area may be moving in. Without transparency and access to information, the citizens of Bella, Nkollo, Gwap and Moungué remain left in the dark.
Courtesy Forest Peoples Programme