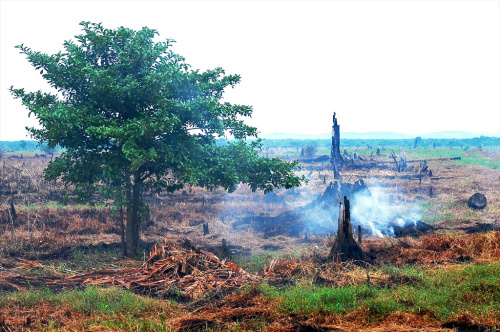 Fifty years ago, Indonesia was rich with pristine forest.
And then – boom!
Between 1980 and 2000 – a timber logging boom. Illegal logging followed – so, another boom in the 10 years from 2000, and then the palm oil boom came after that.
Pristine forest was severely logged and turned into degraded forest. What was left was slashed and burned, made ready for oil palm and wood plantations of different scales.
This landscape transformation provided benefits and costs to various actors. But fire and haze were also part of the landscape transformation.
Under President Joko Widodo, the Government of Indonesia has committed to reducing – or even zeroing – fire incidences in Indonesia. And although some improvements have been made, fire and haze continue.
This year, the country is facing El Niño, which will cause drier weather and increase the occurrence of fire and haze.
Solutions are needed, because current actions mostly deal with fighting fires and are not systematically harnessing the politics and economy of fires.
Reviewing fire policy and laws (what works and does not work), mapping actors and their networks and economies, providing clear and transparent spatial maps, and engaging with key policy makers and practitioners are key for reducing fire and haze.
Spatial Plan Needed
Unclear spatial planning is constraining the fire reduction effort.
At a stakeholder consultative meeting in Pekanbaru on 25 March, the need for agreement and an enforceable spatial plan was underlined.
This is not enough.
All stakeholders need to again sit down and discuss spatial mapping and try to reach agreement. Negotiating the interests of conservation, legality, business, local livelihoods, carbon emission reductions and so on is vital, but so too is the understanding that an "ideal" solution may not exist.
When discussing the history of a degraded area, negotiations should cover not only space but also duration. For example, an area that has been converted illegally from a conservation area to oil palm plantation could remain oil palm for a certain number of years to provide compensate for the investment by private sectors or local communities.
However, after that designated time period, it would be time to restore the area to forest.
Illegal land transactions can, and do, occur in concession and state lands, where the area is not really secured. This economic demand for lands that are degraded, burned and planted with oil palm largely drives the land transformation from pristine forest into the agricultural plantations that provide huge benefits to certain actors.
The government needs to create disincentives for illegally degraded, burned and oil-palm-planted lands by putting a legality standard over the land being sold.
Stopping Illegal Activity 
Detecting, anticipating and prosecuting organised crime involved in illegal land transactions causing fire and haze is the role of legal institutions. At the same time, police, lawyers and judges dealing with related forest and environmental laws must receive training.
President Joko Widodo's administration has already established a task force to resolve conflicts in Indonesia's forests.
The task force will be a joint collaboration between Ministry of Environment and Forestry (MOEF), the Home Affairs Ministry, the Agrarian Ministry, and the Corruption Eradication Commission (KPK). To ensure the success of this task force, the public must be made aware of the importance of reducing fire and haze, using mass and social media.
Preventing Peat Degradation
Peat degradation is the main source of Indonesia's carbon emissions through fire. Preserving peat is not only about a valuable ecosystem, it is also about the people who live there.
To reduce fire on peatlands, we need to develop immediate livelihood and income sources for indigenous and local communities living on already-degraded land. These could include annual crops, horticulture, agroforestry and planted trees depending on peat depths, along with related small-scale industries along the value chains.
At the same time, those communities living on good peatland need assistance to develop their livelihood and income sources – with the help of such schemes as payments for ecosystem services and REDD+.
Strengthening and providing financial support to grassroots organisations such as  will ensure their effectiveness in supporting fire detection and early warning systems.
Local initiatives at the microlevel should restore peatland by blocking canals, wetting the peat and planting Jelutong, rubber and pineapple plants.
Scaling up into landscape levels or hydrological units will need deeper thinking and multi-stakeholder approaches as water is a scarce resource and can be a source of conflict in the dry season.
Planning and executing water-level management at the landscape level through – among other actions – canal blocking would ensure fairness for both small-scale and large actors.
Community and livelihood development are necessary to sustain peat restoration. Sharing the good practices of local initiatives and the private sector in peat ecosystem restoration and encouraging the adoption of those practices will help create uniformity.
Finally, reducing fire and haze is not only a "TO DO" list to follow as outlined above; it's also about HOW to do things and WHO should be doing them.
How and Who
We can use a 'landscape approach' to reconcile agriculture, conservation, and other competing land uses to answer the question of HOW.
In this approach, the government, smallholders and other key stakeholders will be called to consider their multiple goals in the landscape, understand the drivers, set priorities, take action and monitor progress.
Understanding WHO really are "the stakeholders of fire" is a key to the success of the landscape approach. This approach will be guided by the ten principles of a landscape approach, which emphasise adaptive management, stakeholder involvement, and multiple objectives.
Collective actions among ASEAN country members – to reduce fire and haze through continuous dialogue, pooling funding and concrete actions on the ground – are needed to realise the vision of a haze-free ASEAN by 2020.
Finally, thinking globally, linking to the achievement of the Sustainable Development Goals (SDGs) is required to get better support from national and international communities.
By Herry Purnomo (a scientist based at CIFOR in Bogor – h.purnomo@cgiar.org)