Following in the footsteps of Stockholm and several others, the German city of Berlin is the latest city to pull out of fossil fuels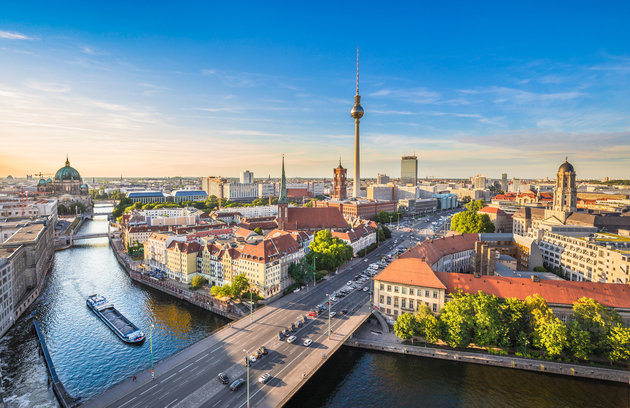 Berlin's parliament voted on Thursday to pull its money out of coal, gas and oil companies.
The new investment policy, part of the German capital's goal of completely weaning off carbon by 2050, will force the city's pension fund – worth $852.8 million, or €750 million – to divest from shares of German oil giants RWE and E.ON, as well as the French behemoth Total.
The move comes a week after Stockholm, the capital of Sweden, vowed to end its investments in fossil fuels companies, making Berlin the seventh major Western city to join a divestment movement that already includes Paris, Copenhagen, Oslo, Seattle, Portland and Melbourne. In September, New York Mayor Bill de Blasiourged the city's five pension funds – worth a collective $160 billion – to sell their $33 million exposure to coal, by the far the dirtiest fossil fuel.
A handful of smaller U.S. cities have pledged to curtail fossil fuel investments, too.
"Berlin's decision to blacklist fossil fuel companies is the latest victory for the divestment movement, which serves to remove the social license from companies whose business model pushes us into climate catastrophe," Christoph Meyer, a campaigner with environmental non-profit 350.org's Fossil Free Berlin project, said in a statement. "We will keep a close eye on the administration to make sure it upholds today's commitment and urge the city to now take quick steps to break its reliance on coal power."
The decision, hailed as a victory for environmentalists, comes as the divestment movement gains steam in the wake of the historic climate treaty brokered in Paris in December. About 170 nations signed the accord at the United Nations in New York two months ago. More than 500 institutions – including well-endowed universities, pension funds and religious organizations collectively representing $3.4 trillion – have agreed to stop investing in fossil fuels since the campaign began.
The divestments put pressure on fossil fuel companies to take serious steps to reform their businesses as world leaders try to dramatically slash carbon emissions. Without that, global temperatures are likely to rise well above 2 degrees Celsius, or 3.6 degrees Fahrenheit, by the end of the century, altering the climate enough to jeopardise the future of human civilisation.
It's not a particularly contentious move for Berlin. For much of the last decade, Germany has aggressively pushed to transition from an economy powered by fossil fuels to one propelled by clean energy under a policy called Energiewende. As of 2014, the country – considered the economic powerhouse of Europe – generated 26.2 percent of its power from renewables, according to Strom-Report, a project run by a group of German data journalists.
"We're not alone anymore," Charly Kleissner, the founder of the KL Felicitas Foundation, a group pushing for divestment from fossil fuels, told the German business newspaper Handelsblatt last week. "The next generation is all in."