A post-Brexit UK will still have energy ties to the EU, but there will be big changes, writes Sara Stefanini in Politico. She lists five ways Brexit will impact energy and climate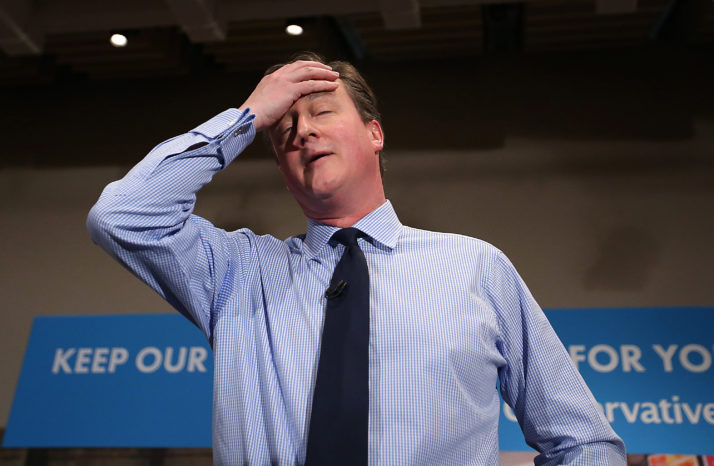 Britain's departure from the EU will force broad changes to the bloc's energy and climate policies, and remove a crucial ally for Central Europeans — but it will also give London far more freedom to pursue nuclear projects.
The U.K. has often been an energy outlier in the EU, advocating nuclear power and shale gas sources shunned by others. Its alliances tend to shift, always with the aim of keeping interference from Brussels to a minimum and taking an ambitious yet financially minded approach to tackling climate change.
But there's a lot to lose on both sides of the Channel after Thursday's vote.
A post-Brexit U.K. will still be tied to the rest of Europe through gas and electricity links and an emissions trading market it is unlikely to ditch, but it will have less influence on the bloc's decisions. The EU, instead, will lose a strong pro-free market voice, which has historically helped tone down some more statist schemes coming from Continental capitals.
Leaving the EU will relegate the U.K. to a sort of lobby group in Brussels, Swedish Liberal MEP Fredrick Federley told a Politico conference a few days before the referendum.
"It would be sad to see the old empire of the United Kingdom reduced to another Norway," said Federley, who leads the Emissions Trading System (ETS) reform discussions in the European Parliament's Industry and Energy Committee. Norwegians "are now lining up outside my office to meet because they want to affect the policies of the ETS — companies, ambassadors, ministers and members of the national parliament."
Here are the five ways a Brexit will impact energy and climate:
Climate recalibrations
The U.K. has traditionally been a leader on climate policies, in 2008 becoming the first country to set a long-term binding law cutting emissions by 80 percent by 2050 and creating a voluntary carbon emissions market before the EU launched its own bloc-wide system. But if Prime Minister David Cameron steps down (as he's already done), there's no promise that leading Leave politicians will follow that high-ambition track.
"While not all Euroskeptics are climate skeptics, few climate skeptics are not also Euroskeptics," the environmental analysis group E3G said in a private briefing note on the possible effects of the referendum. This means any new government could, for instance, scrap the country's renewable energy targets and tax on high-polluting power plants.
A post-Cameron leadership could also change the country's approach to the Paris climate agreement. "It could potentially submit a highly ambitious (nationally determined contribution) to the U.N., it could ramp down its ambition, or it could ignore it, which would be a blow to the whole process," said Will Nichols, a senior environment and climate change analyst at the risk advisory firm Verisk Maplecroft.
Christiana Figueres, the U.N.'s outgoing climate secretariat chief, agreed earlier this week that a Brexit would force a revisit of the plan EU countries submitted in Paris as a 28-member bloc. "From the point of view of the Paris agreement, the U.K. is part of the EU and has put in its effort as part of the EU, so anything that would change that would require then a recalibration," she said.
Even if the U.K. wants to continue shoring up global climate change efforts, it will have a harder time doing so as a stand-alone country that only produces 2 percent of worldwide emissions, said Barry Gardiner, the Labour Party's shadow climate and energy minister.
Asked about the interplay between London and Brussels climate policies at a U.K. parliamentary hearing in January, Cameron agreed that climate is an issue on which the two sides work well together, stressing that his government "played a key role" in getting the EU to high ambition. The U.K. takes a "strong view" on sustainable development and climate change, he said. "So we're able to lead by example in these forums, including in the European Union."
Security in numbers
Energy security was at the core of the Brexit energy and climate debate, with the Remain camp arguing that leaving the EU would weaken the U.K.'s bargaining power at a time when its domestic oil and gas is waning.
The U.K.'s Energy and Climate Change Secretary Amber Rudd put the argument in simpler terms: strength in numbers.
"I'm old enough to remember the power cuts of the 1970s, when Britain was the sick man of Europe," she said in a speech in March on the benefits of staying in the EU. Rudd pointed to the threat of "countries such as Putin's Russia," which uses its ability to cut off deliveries or hike prices as a foreign policy tool. "As a bloc of 500 million people, we have the power to force Putin's hand."
But the European Commission's latest package of energy proposals — focused on securing and diversifying the bloc's gas supplies — do the very opposite, countered Andrea Leadsom, Rudd's deputy as minister of state for energy and climate change.
The Commission's desire to get a look at intergovernmental energy agreements between EU and non-EU countries before they're signed would leave the U.K. "possibly reliant on a group of unelected eurocrats," she said in a speech in May.
Of even bigger concern is the proposal to require countries to help out their regional neighbors if they have a gas supply crisis, she added. "If we remain to become part of the energy union, and another member state faces problems with their gas security — perhaps because of a political dispute with a supplier — we will be required to deprive our own small businesses of energy here at home."
Energy bills go up… or down?
Both sides of the Brexit debate argued their position would ensure lower household power and gas bills.
An independent report commissioned by the British power and gas grid operator National Grid fell in the Remain camp's favor. Leaving the EU could cost the U.K. up to £500 million per year in the 2020s, as a result of uncertainty over energy and climate investments, it found.
Staying in the EU would have kept down the energy sector's cost of finance, but on the other hand leaving will free Britain of bloc-wide targets that constrain the choice of energy technologies, the report said.
British energy prices depend on EU policies, Iain Conn, CEO of the British energy company Centrica, told Politico in May. The country imports about 6 percent of its electricity from the Continent, and 50 percent of its gas from inside and outside the EU.
"If the U.K. is not around the table in the EU, influencing how efficient the European energy market can be, how much competition there is in the European energy market, then the probability is that our customers in the U.K. will see higher energy costs," he said.
Leavers disputed these claims, arguing that without the cost of being an EU member, the government will have more money to help the U.K.'s poorest.
"If you vote to leave, the hundreds of millions of pounds that we give every week to the European Union come back to Britain," Justice Secretary Michael Gove told the Independent in May. "One of the ways in which we can help those most in need is by cutting VAT on domestic fuel. Because fuel bills are 10 percent of the average weekly outgoings of working families."
Central and Eastern Europe loses a friend
As an EU member, the U.K. formed a partnership with Central and Eastern Europeans in debates over how much say the Commission, and other members, should get in a country's climate and energy policies.
Brexit will be a loss for the eastern nations, not just because the U.K.'s presence diversified the group, but because it brought voting numbers in the Council of the EU — where Britain, Germany, France and Italy have the greatest weight thanks to their large populations.
The U.K. and the CEE want a flexible system for ensuring countries do their part to meet the bloc's emissions, renewables and efficiency targets for 2030, all while keeping the Commission's monitoring to a minimum. That puts them at odds with countries such as Germany, Denmark and Sweden, which want to make sure laggards are held accountable.
Without London's banking, Central Europeans will have a tougher time resisting efforts to give Brussels more say in national energy policies.
Investors in the lurch
Investors like long-term predictability, so the U.K.'s exit will likely cause upheaval for businesses planning to build renewable energy plants or drill for shale gas in the U.K., at least for a couple of years.
The chiefs of oil and gas majors BP, Shell and Centrica were among the 200 business leaders who signed a letter in February warning that a vote to leave "put the economy at risk."
Ambiguity about the new U.K.-EU relationship will raise uncertainty about changes in energy and climate policies, leaving investors in limbo. "And investor uncertainty often comes with a risk premium," said Antony Froggatt, a senior research fellow at the London-based think tank Chatham House.
Leaving the single market could also open the U.K. to new import taxes, adding cost to equipment such as foundations for offshore wind farms or parts for the French-led Hinkley Point C nuclear power plant project in Somerset. But it would also eliminate the EU's trade duties on Chinese solar equipment imports, exposing domestic companies to much cheaper panels and modules, according to Bloomberg New Energy Finance, an analysis firm.
"You could imagine the U.K. would work rapidly on free trade agreements with the European Union, but that would take some time," said Dario Traum, a policy adviser at Bloomberg New Energy Finance. "And over that period of uncertainty, you would probably see big investors holding back until they know for sure what environment they would be operating in."