Two rural communities in Hong Local Government Area of Adamawa State in Northeast Nigeria are effectively recovering from the ravages of insurgency, thanks to an energy lifeline that is improving health services, providing potable water, illuminating the community and boosting mobile communication.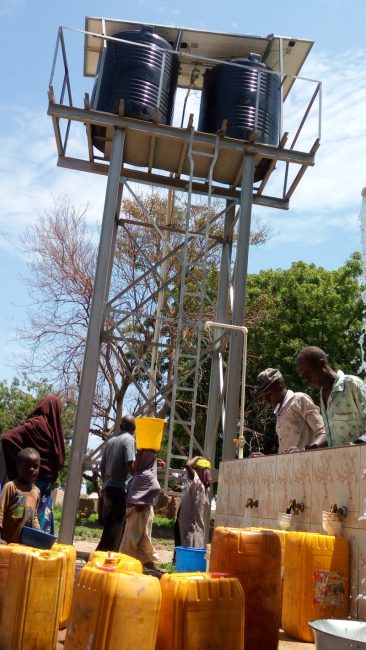 In February 2015, rampaging Boko Haram militants invaded the villages of Fa'a Gaya and Gaya Silkami. While the former was caught unawares and suffered considerable human and material casualty, the latter had gotten wind of the attack and villagers sought refuge in the nearby mountains for some days before trekking for hundreds of kilometres – in the dead of the night on foot – to Hong. Some were able to make it to Yola, the state capital.
With the insurgency subsiding, normalcy now appears to be returning to the communities as the villagers are returning to their homes, and picking up the pieces of their lives.
But the darkness awaiting them is, to their relief, being lit up, courtesy of an initiative aimed at expanding access of local communities to modern energy services (such as solar energy) under the Sustainable Energy for All (Se4All) programme being promoted by the United Nations Development Programme (UNDP) and Energy Commission of Nigeria (ECN).
Most of the houses in both villages – predominantly Kilba tribe – are built with mud blocks and thatched roof, and the villagers live in a cluster. While Gaya Silkami has a population of about 1,345, Fa'a gaye has 830. They are mostly into cattle rearing and cultivation of crops such as maize, groundnut and millet.
The major sources of water supply in the villages include manual water pump, stagnant ponds, run-off streams and rain water. But Se4All has enabled the installation of a solar-powered water borehole along with two 10,000-litre capacity overhead tanks providing clean and potable water supply for the villagers.
Similarly, the villages are not connected to the national grid, making them very dark at night. Residents lack access to – and can't afford to buy – kerosene to fuel their lamps for night lighting, spend huge amount to purchase batteries for torchlight and very few can afford a generating set. However, 267 solar home systems have been provided the households (167 in Gaya Silkami and 100 in Fa'a Gaya) to provide lighting in the night for security, reading and enable users to charge their mobile phones.
Just like the single Primary Health Care Centre (PHCC) in Fa'a Gaya, one of the two PHCCs in Gaya Silkami was burnt down by members of the Boko Haram sect during the attacks. While the one in Fa'a Gaya has not been rebuilt since the return of the indigenes, Gaya Silkami's PHCC has however been reconstructed. Consequently, Solar PV Systems were installed on the roofs of the two PHCCs in Gaya Silkami, and a solar-powered freezer/fridge provided for each of the centres. The systems were installed to provide lighting and power the freezer/fridge in the clinics.
Javan Zakaria, clinic-in-charge at the Gaya Silkami PHCC, said: "Before now, we used to go to Kuva which is about 50km away to get our vaccines. The vaccines can be stored here now because of the solar freezer given to us by the UNDP at no cost. We also have light 24 hours a day.
"We are very grateful for this kind gesture. We didn't expect to benefit from such a programme because we are in the village. We now have more patients coming to us. In fact, we are now a big clinic."
Ja'afaru Biyma, a representative of the village head in Gaya Sikalmi, stated: "We are very grateful for the lamps, which we also use to charge our handsets. It has been useful in many situations because it can run for 24 hours after full charge. However, we will very much appreciate it if UNDP and government can provide us with an ambulance."
Alhaji Abba Saleh, a representative of the Head of Service of Hong LGA, submitted: "We hereby thank the UNDP and ECN for providing us with energy sources to power borehole for water supply, to preserve drugs in the clinics, light our homes and the community and charge our phones. The Pumping machine and the freezer were also provided at no cost. All these will go a long way in improving the quality of life."
Aliu Idris, Chief Imam of Guw Dutse community, which is several kilometres from Gaya Silkami, said: "Our people come from our village that is over 2km away from here to fetch water from this new facility in Gaye Silkami. We are pleading with the UNDP and ECN to extend this gesture to us as well because we do not have water and we trek a long distance to come here to fetch water."
Because the PHCCs are government facilities and have the tendency to go on strike at intervals, the Se4All programme has therefore equipped a nearby missionary clinic at Gartsanu Gaya – the Lutheran Church of Christ in Nigeria (LCCN) Arewa Diocese Gartsanu Maternity Clinic – with a solar-powered fridge-freezer that is used to preserve vaccines and drugs, as well as light up the rooms in the health centre.
Manaseh Gachanunaya, a junior community health extension worker (JCHEW) at the clinic, disclosed: "Before now, we had nowhere to store the vaccines so we brought them from Mijidi or Hong which is about two and half hours' journey from here. Our immunisation was not so good then. But all these have changed as we can now preserve drugs here. We immunise close to 100 children in a day."
Okon Ekpenyong, an engineer and deputy director with the ECN, said: "Communities that have been driven away by insurgents are now returning. And now that they are returning, it's like going back into darkness. And when these people return from exile, we at the UNDP/ECN now decided that they want to change the standard of living of the community by providing them with necessary energy for daily living, which include energy for lighting, energy for water supply, energy for primary health care delivery. In that case now we decided that we are going to provide them solar energy because in this case they will not need petrol or kerosene but they will use the natural sunlight. So now we are using this solar to provide them water supply. We are also providing them solar lightening with which they can use to charge their phones.
"In Gaya Silkami, the project has successfully provided about 167 households with over 1,345 people with solar lighting systems which would enable the villagers perform domestic duties effectively at night, charge their mobile phones in the convenience of their homes and help children read at night. With this, the villagers do not have to worry about buying kerosene or dry cell batteries for lighting. The portable water supply would help to improve the health condition of the villager by reducing cases of infection from water-borne diseases, and reduce the number of hours needed by women and children to fetch water from the stream.
"The project also trained some youths in the installation of the solar home systems, and the installation and maintenance of the solar powered borehole. This is a form of job creation for the youths who can now install and maintain some of these facilities for other communities."