The State Programme Coordinator (SPC), International Food for Agricultural Development (IFAD) in Benue State, Mr Emmanuel Igbaukum, has warned farmers against diversion of farm inputs given to them by IFAD and other supporting agencies.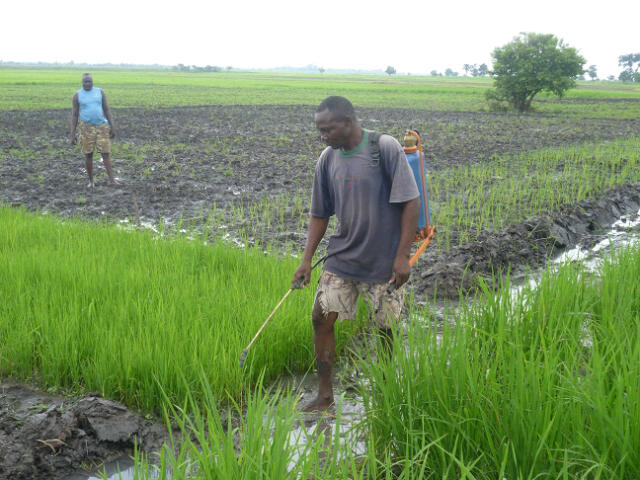 Igbaukum gave the warning on Monday July 2, 2018 in Taraku, Gwer Local Government Area of the state during the flag-off of the 2018 distribution of agro inputs.
He decried the situation where people collect inputs with the sole aim of selling them and not to apply them to their crops, stressing that such an ugly behaviour was counterproductive.
He further said that such behaviour would make organisations that support farmers with various items to be discouraged to render assistance to them subsequently.
The programme coordinator said that the inputs were given to them to enable them step up their farming activities and realise bountiful harvest during harvest period and not to be sold.
He pointed out that it was no longer going to be business as usual because the organisation would intensify its monitoring processes, adding that security agencies too would be involved so as to prevent some people from selling the inputs.
He disclosed that OLAM had recovered 95 per cent of the loans it gave to Benue farmers and he sued for sustenance of the spirit.
The Commissioner for Agriculture and Natural Resources in Benue, Mr James Anbua, commended Benue farmers for changing the narrative that Benue farmers do not pay back loans by paying 95 per cent of the loans they collected from OLAM.
The National Programme Coordinator (NPC) of IFAD, Mr Ameh Onoja, said that OLAM bought 25 metric tonnes of rice from Benue farmers which amounted to N2.7 billion.
Representative of International Fertiliser Distribution Centre (IFDC), Miss Dorathy Arinze, stated that the organisation would ensure equitable distribution of the inputs which was its core mandate and urged farmers to make maximum use of them.
The third class chief of Ngenev, Chief Augustine Tali, encouraged people to venture into massive agriculture in order to better their livelihood.
By Damian Daga