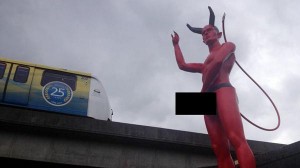 A statue of Satan standing proud with a huge erection has been swiftly taken down by city officials in East Vancouver.
The nine foot underworld ruler mysteriously appeared on Tuesday morning.
It was on display near the Clark Drive SkyTrain station – raising hell with shocked commuters.
But it didn't last long, and was removed hours later.
The small square where the devil appeared was originally home to a statue of Christopher Columbus, but that has since been moved to Hastings Park, report CTV News.