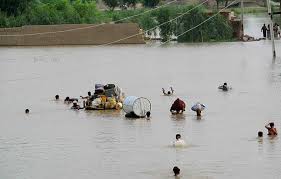 Rizwan Naseer, Pakistani Rescue official, said on Wednesday in Islamabad that the death toll from a week of flooding in Pakistan has risen to 250.
He said the authorities rushed to evacuate nearly 1 million people from the southern province of Sindh.
Naseer said more than 24 people died when the roof of a mosque collapsed on worshippers overnight in the eastern city of Lahore.
The National Disaster Management Authority said mudslides and flooding killed around 250 in the central province of Punjab and parts of the Kashmir region divided between Pakistan and India.
The agency spokesman, Ahmed Kamal, said two eastern rivers were still in high flood.
He said the Chenab and Jhelum rivers have breached their banks and inundated more than 350,000 acres (142,000 hectares) of cropland in Punjab.
"Flooding has destroyed cotton, sugarcane and rice crops,'' he said.
Shahbaz Sharif, Punjab Chief Minister, said authorities on Wednesday used explosives to divert River Chenab away from entering the southern city of Jhang.
Defence Minister, Khawaja Asif, said thousands of troops and rescue workers were evacuating nearly 1 million people in Sindh province, as floods headed towards the region.
He said military helicopters and rescue boats were taking part in the evacuation operation.
Television footage showed people standing on overloaded boats taking them to safety, leaving their houses and cattle behind in flooded villages.